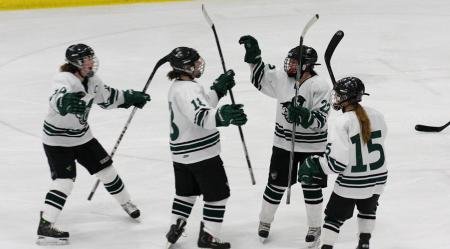 Castleton — There's good news for fans of Spartan hockey this season. PEGTV, Rutland County's public access television station, will broadcast all Castleton State College's home games live—including men's and women's Spartan teams—on channel 20 on cable-T.V.
The first cable broadcast will be double- header men's and women's home games Friday, Dec. 7, from Spartan Arena in Rutland.
The Castleton women's team will face New England College at 4 p.m. and the men's team will play at 7 p.m. against Skidmore College.
According to PEGTV's Stacy Bates, the station is partnering with Northeast Sports Network, and host Jack Healey, to deliver pre- and post-game coverage as well as play-by-play throughout the game.
"If you miss the live telecast, the game will be made available later in the week via PEGTV's video on demand portal located on their website," Bates said.
PEGTV airs programs on channels 15, 20 and 21 and is available to all cable subscribers throughout Rutland County.
Streaming programming, video on demand services and hyper-local weather forecasts are also available online at www.pegtv.com.
Vote on this Story by clicking on the Icon