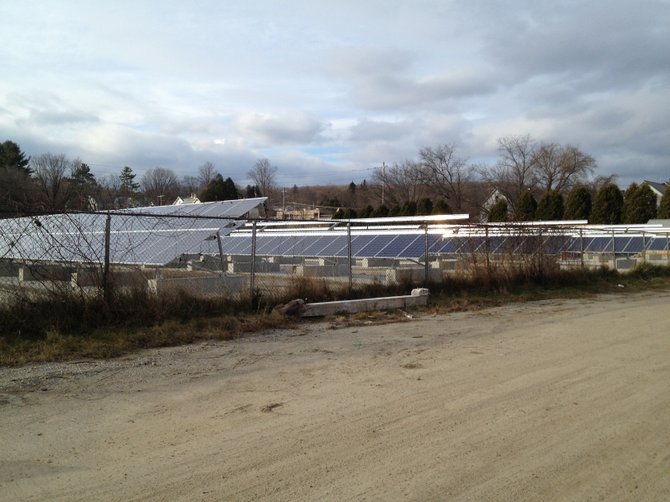 Rutland — Green Mountain Power issued a request for proposals from companies interested in providing detailed engineering and design services for the Stafford Hill Solar Farm, which GMP hopes will be the largest solar farm in Vermont upon completion Dec. 11.
The project, to be built on Rutland's former landfill behind the Stafford Technical Center, is part of Green Mountain Power's effort to make Rutland the solar capital of New England.
"The project will also contribute to the larger statewide goal of producing 90 percent of our electricity from renewable sources by 2050," said GMP President and CEO Mary Powell. "We're looking for a designer who can help us maximize production at the site as affordably as possible."
Earlier this fall, GMP agreed with the city on a 25-year lease on the former landfill, which is renewable for an additional 25 years.
"We see this as a win-win-win," said Steve Costello, GMP's vice president for generation and energy innovation. "It creates a productive use of long-fallow land, provides an income to the city, and generates clean, renewable energy for our customers in line with state energy policy and goals."
GMP is seeking an experienced firm with a background in designing and engineering solar projects, specifically on landfill and brownfield sites. The design and engineering work will include photovoltaic arrays, site improvements, electrical work in conformance with the National Electrical Code, coordination with GMP staff and consultants, and verification of all dimensions and conditions at the site. The site is adjacent to the existing Rutland County Solid Waste District drop-off facility, which will remain in place.
Bids are due by 5 p.m. on Jan. 11.
The RFP issued comes just days before GMP will commission the Creek Path Solar Farm, a 150-kilowatt solar site adjacent to East Creek and Cleveland Avenue. That project, which is expected to come on-line Monday, was also built on a brownfield site that housed an old coal-to-gas plant back in 1901 and sat largely empty for several decades after the 1950s.
(Continued on Next Page)
Prev Next
Vote on this Story by clicking on the Icon