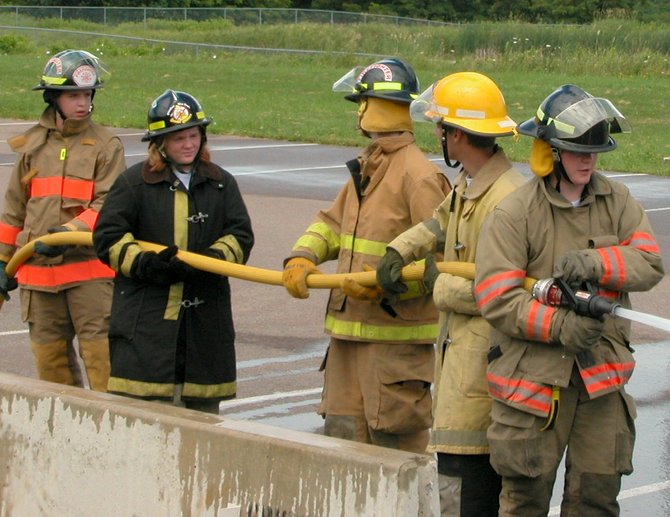 Williston — Vermont Fire Cadet Academy, a weeklong, intensive summer program for youth ages 14 to 17, has selected Vermont Technical College as its new location for 2013.
A program of the Vermont State Firefighters Association (VSFA), the academy develops the confidence and self reliance of its participants, promotes a sense of both team cooperation and individual responsibility, teaches and develops basic fire fighting and emergency service skills, and helps build in young people a strong sense of the need for community involvement and support.
"We chose Vermont Tech because we were looking for new ideas," said Francis Buck, who serves as both president of the VSFA and director of the Academy. "With a top fire science program and a state-of-the-art burn building, Vermont Tech is a great fit with the our program and goals."
Vermont Tech currently offers an associate's degree in fire science, which prepares students to pursue careers as firefighters; emergency medical technicians; fire suppression/alarm system installers and technicians; fire inspectors; and fire investigators. The curriculum includes coursework in fire behavior, emergency medicine, hazardous materials chemistry, incident strategy and tactics, administration of emergency services, fire prevention, and building construction. The program offers certifications in both Firefighter I and II, and Technical Rope Rescue.
"We're excited that the Vermont Fire Cadet Academy and the Vermont Tech Fire Science Program are in a positive collaboration," said Professor Alex Northern, who serves as head of the College's Fire Science Program and will participate in the Academy as an instructor. "We're looking forward to training future fire service leaders for Vermont and the nation."
Cadets are typically sponsored by their local fire departments and attendance is limited to 48. In making final selections, factors such as age, the location of the cadet's sponsoring department, number of other applicants from the same area, present involvement in a cadet program and/or current participation with a fire department are considered. Graduates of the program receive a certificate from the VSFA.
"These cadets are our future leaders in the state fire service," said Buck. "We hope that we can instill in them the lessons we've learned and that they will carry on our best practices."
Vote on this Story by clicking on the Icon