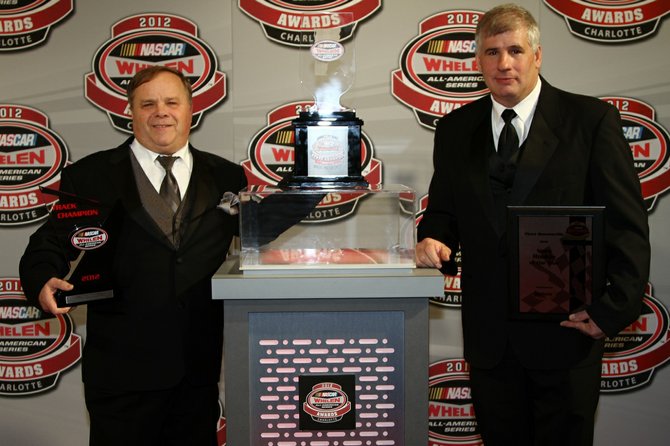 West Haven — Rutland-area stock car drivers Ron Proctor and Vince Quenneville, Jr., were celebrated among the champions and top drivers of the NASCAR Whelen All-American Series during NASCAR Champions Week in Charlotte, N.C. Proctor and Quenneville were honored at the Crown Ballroom at the NASCAR Hall of Fame Dec. 7.
The NASCAR Whelen All-American Series sanctions weekly stock car racing at over 50 tracks in North America under a common point structure; each driver's best 18 results in Division I events are counted toward their state, provincial, and national point totals. Proctor and Quenneville compete in the Bond Auto Parts Modified division—the designated Division I class at Devil's Bowl Speedway in West Haven.

Proctor, of Charlton, N.Y., was the Devil's Bowl Speedway and NASCAR Vermont State Champion for the second straight year, while Quenneville, of Brandon, collected the Rookie of the Year award for Vermont and finished second in national rookie standings.
In addition to total winnings of more than $5,000 for his State and Track titles, Proctor received a Vermont State Champion racing suit from C.V. Products, a new Bell helmet, and Sparco driving shoes, and both drivers were given trophies from Jostens. Devil's Bowl Speedway promoters Mike and Alayne Bruno also took part in NASCAR Champions Week, including addressing a conference group of NASCAR Home Tracks promoters on the benefits of using social media to promote events.
Lee Pulliam of Semora, NC was honored as the NASCAR Whelen All-American Series National Champion and was presented a championship ring and trophy by NASCAR President Mike Helton; Pulliam competes in Late Models at several tracks including Motor Mile and South Boston speedways in Virginia. Modified driver Keith Rocco of Wallingford, Conn.—who made an appearance at Devil's Bowl Speedway in May—was the national runner-up. Oklahoma's Brian Parker narrowly defeated Quenneville for the National Rookie of the Year award.
Devil's Bowl Speedway will honor Proctor, Quenneville, and the rest of its champions and top drivers from all of its four weekly NASCAR Whelen All-American Series divisions at the Banquet of Champions, Feb. 2, at the Holiday Inn Rutland-Killington in Rutland.
Vote on this Story by clicking on the Icon