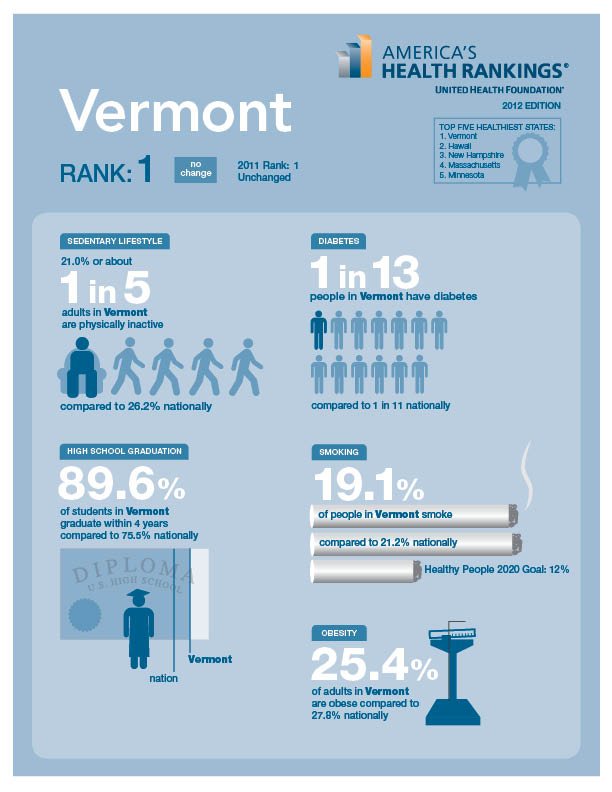 Middlebury — Americans are living longer due to several medical advances, but unhealthy behavior and preventable illness threaten quality of life, according to United Health Foundation's 2012 America's Health Rankings.
For the sixth year in a row, Vermont is the nation's healthiest state. Hawaii is ranked second, followed by New Hampshire, Massachusetts and Minnesota. The five least healthy states are South Carolina (46), West Virginia (47), Arkansas (48), and Mississippi and Louisiana, which tied for the 49th slot. States that showed the most substantial improvement in rankings include: New Jersey (nine slots), Maryland (five slots), and Alabama, Colorado, Massachusetts, Nebraska, Oklahoma and Rhode Island (three slots).
While premature, cardiovascular and cancer deaths have declined since 1990 by 18.0 percent, 34.6 percent and 7.6 percent, respectively, Americans are experiencing troubling levels of obesity (27.8 percent of the adult population), diabetes (9.5 percent of the adult population), high blood pressure (30.8 percent of the adult population) and sedentary behavior (26.2 percent of the adult population).
UnitedHealthcare watches America's Health Rankings closely to better understand the health of individuals and communities nationwide and in Vermont and has several programs in place designed to address these needs. Programs educate U.S. and Vermont citizens on how to live healthy lives and empower individuals to advocate for public health improvement.
Vermont's Bill of Health
According to the 23rd Edition of America's Health Rankings, Vermont is first again this year when compared with the health of other states. This year's report finds that, similar to every other state, Vermont has its share of strengths and challenges.

Vermont's Strengths
•High rate of high school graduation
•Low incidence of infectious disease
•Low prevalence of low birthweight
•Low rate of uninsured population
Vermont's Challenges
•Moderate prevalence of binge drinking
•Higher rate of cancer deaths than most other states
UnitedHealthcare acknowledgeD the efforts of Jeff Heath, longtime public health nurse for the Vermont Department of Health's Middlebury district office. His public health colleagues, health care professionals, and community see Heath as a model of competence and caring.
(Continued on Next Page)
Prev Next
Vote on this Story by clicking on the Icon