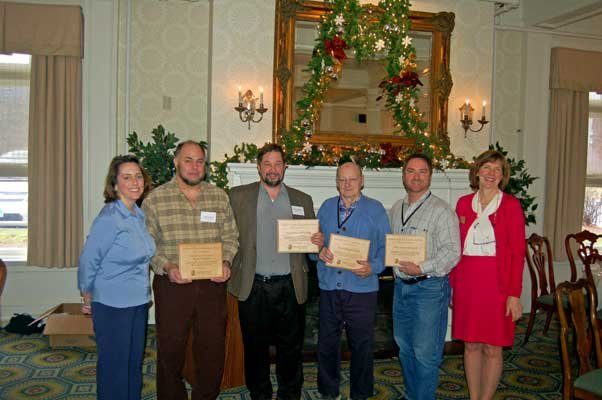 Middlebury — Addison County Economic Development Corporation announced recipients of its inaugural "Addison County Companies to Watch" awards during the organization's annual meeting Friday at the Middlebury Inn.
The four companies, Exclusively Vermont Wood Products, Good Point Recycling, Tata Harper Skincare, and WhistlePig Whiskey, were selected by the awards committee for their contribution to the county's economic growth and for having a meaningful community impact.
"These four Addison County Companies to Watch represent the spirit of innovation and potential of local businesses. They are great ambassadors from across the spectrum of industries. We look forward to seeing them continue to grow and succeed, and help our region thrive," says Robin Scheu, ACEDC Executive Director. "We're excited to recognize their contribution and hope this award will elevate their profiles both locally and within their respective industries," Scheu says.
In business for 140 years, Lathrop's Maple Supply of Bristol continues to be fresh, dynamic, and innovative. The company's Exclusively Vermont Wood Products represent a full line of lumber and flooring, which include chain of custody documents showing that all wood is harvested within the state from timber that has been proven to be produced sustainably. Timber from Vermont forests is shipped directly to Lathrop's Maple Supply for complete processing at one central location to ensure quality control, providing 6 full-time and 3 part-time jobs, and saving valuable fuel resources. Products are sold at the company's retail outlet and custom ordered and sold to building contractors and homeowners throughout the northeast.
Good Point Recycling is a nationally-recognized electronics recycling company, consulting office, and a respected expert in "Fair Trade Recycling". The company is one of the nation's leading e-waste recycling operations, providing free TV and PC recycling, computer refurbishing, job training, and disposal. The Middlebury-based company has seen sustained growth since its founding in 2002 and currently employs 25 people. The company has achieved R2 Certification, which ensures that more toxic material streams are managed safely and responsibly by downstream vendors, including final disposition of waste materials. Its partnership with the Retroworks de Mexico woman's cooperative is evidence of the company's commitment to environmental and social justice. This spring Good Point is organizing an industry summit for thought leaders in the global e-waste community, which will be held at Middlebury College.
(Continued on Next Page)
Prev Next
Vote on this Story by clicking on the Icon