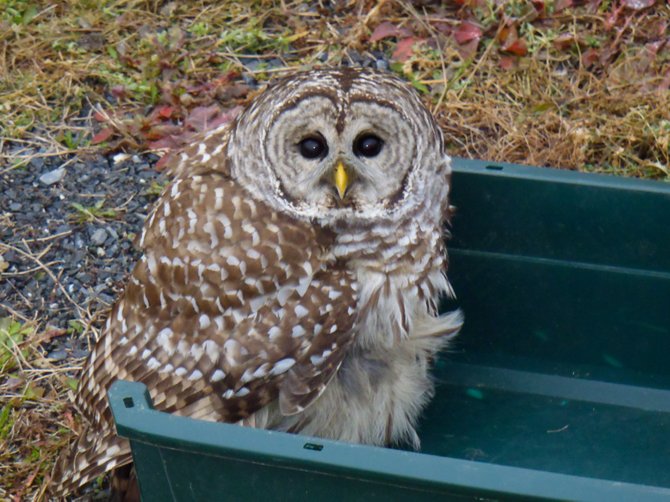 Bristol — Thanks to the efforts of a quick-acting and caring Vermont wildlife biologist and a local truck driver, a mature barred owl in Addison County has been returned safely to the wild.
Biologist David Sausville, of the Vermont Fish & Wildlife Department, rescued an injured owl which ended up half in, and half out of, the front plastic grill of pickup truck.
The owl impacted the truck while it was being driven on an Addison County road, according to the anonymous driver.
Sausville received the wildlife version of a "911" telephone call from the truck driver; he was concerned that the owl, while still alive and kicking, might not be able to be extracted from the impact-damaged grill.
"I received a call from the driver a little after five in the morning explaining that he had hit an owl," said Sausville. "He said that the owl was still alive and was lodged in his truck."

Sausville got directions from the truck driver—who was at work—to make the emergency call and hopefully save a life.
When the state biologist arrived at the driver's workplace, he faced a painful scene—there was an adult barred owl embedded partially within the grill of the pickup truck.
Sausville said the driver couldn't avoid hitting the owl which swooped, from a higher elevation along the roadside, to the level of the front grill. It must have been pursuing prey when the freak accident occured, he said.
The driver stopped and jumped from the cab to find the excited owl—head lodged inside grill—flapping its wings and displaying talons.

Looking at the nasty talons, the driver was quick enough to think of calling the state wildlife office after having covered eight miles to his place of employment to telephone Sausville.
"The driver did the right thing by not attempting to help the owl by himself," said Sausville. "Owls can do serious damage with their talons if they get a hold of you; they don't want to let go."

(Continued on Next Page)
Prev Next
Vote on this Story by clicking on the Icon