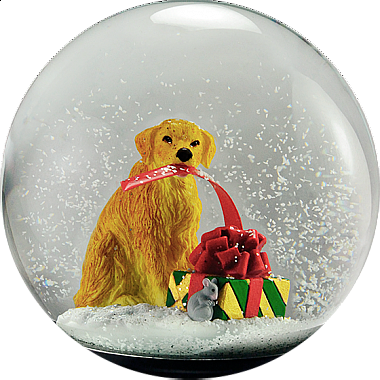 Windsor — Snow globes by local company CoolSnowGlobes of Windsor have graced the shelves of the Museum of Fine Arts Store, the Smithsonian Store, and the catalog pages of Sundance, Gump's and Orvis, among others.
During the holidays this year, local audiences will have the chance to buy a selection of these globes in support of a local non-profit organization, Lucy Mackenzie Humane Society.
More frequently consumers are searching for gifts with meaning, gifts that give back, or gifts that are socially conscious. For many, gift giving has moved beyond the mere exchange of objects, especially among conscientious consumers of the tight-knit communities of the Upper Valley.
An area recognized for support of movements to buy local, conscientious Upper Valley companies are also joining in, generously giving back to the community.
For over two decades, designer Liz Ross and business partner and husband, David Westby, of CoolSnowGlobes, have run a successful snow globe company, whose globes are recognized throughout the world. This year, they have decided to give back to their neighbor, Lucy Mackenzie Humane Society, in West Windsor.
During the holidays, CoolSnowGlobes will donate 30 percent of the proceeds from the sale of their animal-themed globes to Lucy Mackenzie to support the care of animals as they await adoption.
The Snow Cat globe, with a white cat sidled up to a snowman; the Dog with Gift globe, housing a mischevious yellow lab helping to unwrap a gift; or the Stack of Animals, a cow, pig, sheep, goose, and chicken perched atop one another; celebrate the spirit of the animals that Lucy Mackenzie helps throughout the year.
Vote on this Story by clicking on the Icon