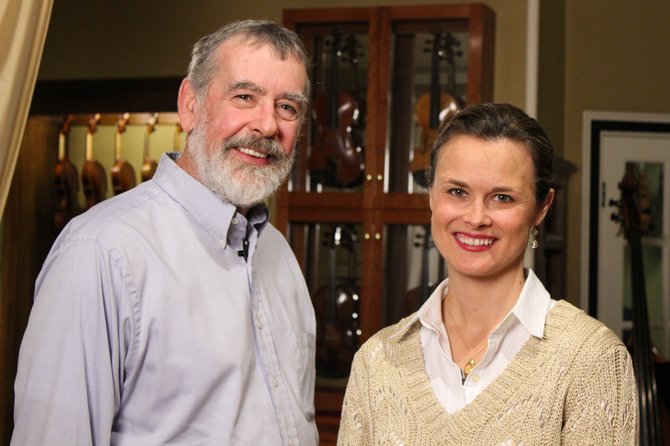 In the spirit of sampling all that the region offers, Vermont Public Television will launch "Out & About," a magazine-style program celebrating life in Vermont and beyond.
The program will premiere Monday, Jan. 7, at 9 p.m. with the first of four weekly episodes. Rebroadcasts are scheduled for Tuesdays at 7 p.m., and it will also be posted on vpt.org.
Hosts Chris McClure of Buel's Gore and Anya Huneke of Charlotte will introduce stories and sometimes take part in them. Both are independent producers who have done work for VPT.
The first episode of "Out & About," airing Jan. 7 at 9 p.m. and Jan. 8 at 7 p.m., features mountain biking at Pine Hill Park in Rutland; Colchester photographer and pilot Shirley Chevalier; the Manchester Music Festival's summer camp; and a luthier at Vermont Violins. In a spot dubbed Movie in a Minute, film fan Collin Parker of Essex Jct. recommends what he says is the best movie made in Vermont.
On Jan. 14 at 9 p.m. and Jan. 15 at 7 p.m., "Out & About" features students at the Center for Cartoon Studies in White River Jct.; young snowboarding champs from Stowe's Mt. Mansfield Ski and Snowboard Club; picking "fruit grown with a conscience" at Champlain Orchards in Shoreham; and an instrument from Mali that adds an exotic sound to the Vermont band Barika. Movie in a Minute recommends the best film about winter. The program is hosted from Bolton Valley ski resort.
On Jan. 21 at 9 p.m. and Jan. 22 at 7 p.m., "Out & About" stories include Gisela Veve of S. Burlington and Liisa Reimann of Burlington, who train in Montreal and are winning international fame in the sport of dragonboating; the weekly Pond Hill rodeo in Castleton; life at Grand View Sheep Farm in Washington; the UVM Morgan Horse Farm in Weybridge; and an interview in Wolcott with poet and playwright David Budbill. Movie in a Minute picks the best political film.

(Continued on Next Page)
Prev Next
Vote on this Story by clicking on the Icon