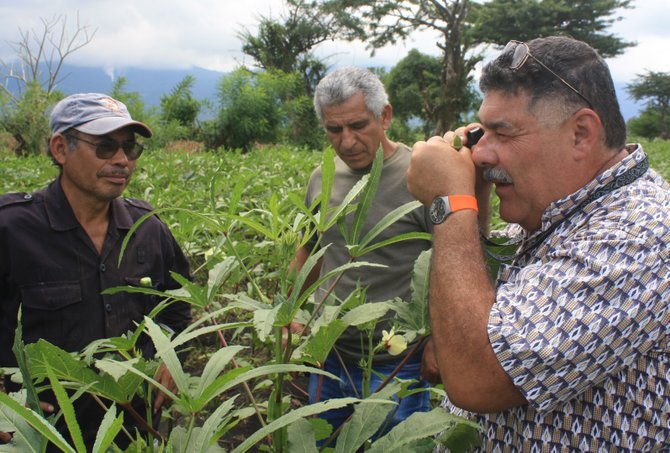 Middlebury — When you consider the hardships endured by Vermont's small-family farms—from weather events and product price swings to personal and financial challenges—it's tough to imagine these local farmers having much time to reach out and help foreign farmers with their localized struggles.
But since this is the season of giving, it may not be too surprising to see that our farmers are happy to lend a helping hand beyond our borders.
Several Vermont farmers are preparing for a rugged, volunteer trip to El Salvador, where they will give and receive the most sustaining Christmas season gift of all—knowledge.
Later this month, according to Caitlin Gildrien of the Northeast Farming Association-Vermont—or NOFA-Vermont, for short—will spend several weeks working in El Salvador.
The volunteer farmers and members of NOFA-Vermont will serve as Farmer-to-Farmer volunteers through Winrock International.
Once on the ground in El Salvador, the farmers will instruct Salvadoran farmers about organic farming as well as how to market their produce.
Gildrien said the instruction will be on how to improve farming practices for going organic, and "ultimately, increase their ability to earn an income and feed their families."
The upcoming trip to El Salvador will be the first time NOFA-Vermont and Winrock are partnering on organic farming practices outside the U.S.
"This will offer opportunities for Vermont's organic producers to support other farmers' success and continue to improve their own businesses through in-depth learning opportunities," according to Gildrien.
NOFA officials announced that the first three Vermont farmer volunteers will Charles Mitchell, Tom Honigford, and Patrick Sullivan.
The trio will arrive in San Salvador sometime in mid January.
A month later, Gildrien added, farmer Howard Prussack—who was a recent volunteer working with farmers in Burma—will be the leader of a second group of Vermont organic-farming volunteers to head to Latin America.
And to complete the Farmer-to-Farmer program with Vermont, a third group will head to El Salvador in April.
(Continued on Next Page)
Prev Next
Vote on this Story by clicking on the Icon