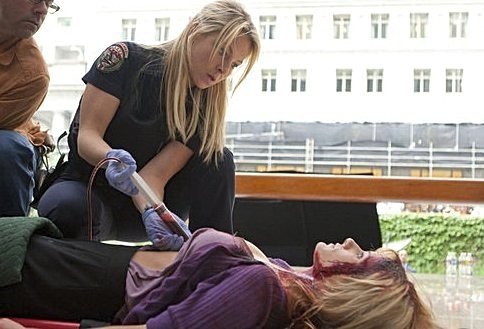 Middlebury — Few of us get to realize our life's dreams before the final curtain call, but for former Middlebury resident Molly Brady, 33, the journey is just as important as actually achieving the prize—and it should be a lot fun all along the way.
Brady, a 1997 graduate of Vergennes Union High School and a 2001 graduate of Castleton State College, is following her star by becoming a SAG-AFTRA card-carrying television and film screen actress.
"I wanted to act my entire life," Brady said during a recent Christmas visit to her hometown of Middlebury. "I've always been interested in T.V. and movies and the lives of actors. I took drama classes and knew that, little by little, I would start to focus on pursuing acting as a professional actor."
In 2003, Brady made up her mind to move west and plant herself in California with all its glam, glitter, promises, and broken dreams.
"After I graduated from Castleton, I was working a day job here with a Middlebury College grad. She said she wanted to move to San Francisco. That was my chance to go out to California and not have to make the big trip alone," she said.
Brady made the cross-country trip with her coworker friend. There, she found herself an apartment in Marin County, across the bay from San Francisco. She decided that waiting on tables was an ideal way to make ends meet, as well providing the flexibility to enroll in acting and attend auditions.
Brady's inner drive, talent, and attractive, fashion-model features worked together to give her a jump-start in the Golden State.
"I was very fortunate to connect with an agent with offices in both San Francisco and Los Angeles," Brady said. "So, I began going to auditions in both the Bay area and L.A."
(Continued on Next Page)
Prev Next
Vote on this Story by clicking on the Icon