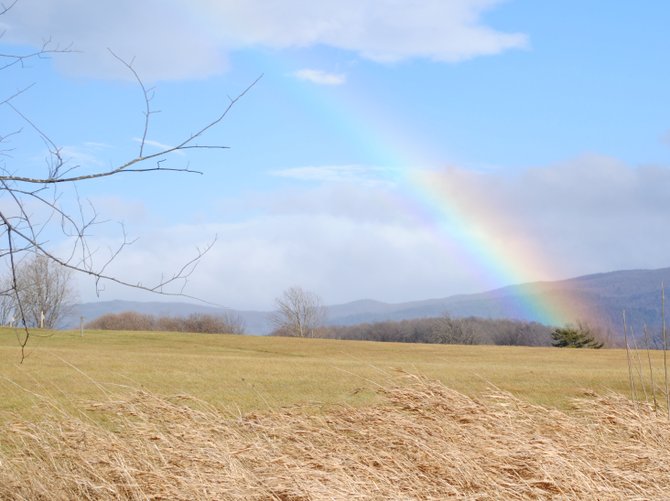 Middlebury — Around here, the year 2012 ended with a pair of weather whoppers—two winter storms that were less than a week apart. For a lot of folks, it was a December to remember.
The storm of Dec. 21 will be remembered for its hurricane-force winds, power outages, and accidents including the death of a Whiting man in a multi-vehicle mishap on U.S. Route 7 on the Middlebury-Salisbury line.
For a lot of us living in Addison County, this pre-Christmas storm packed a bigger wallop than Irene and Sandy. Really. This particularly nasty storm came in like a rabid lion and left with a rainbow (see our related wind-storm rainbow photograph).
Curiously, the Dec. 21 storm surprised this Mayan-calendar naysayer. Heck, I never believed the world was going to end Dec. 21, 2012. However, standing near a 60-year-old white pine tree in my front yard at home as it was shedding several, massive limbs during a hail of 75-mile-an-hour gusts, I wondered if the ancient Mesoamerican mathematicians were truly up to something—well, at least for a few dramatic moments.
And then there came the weather event of Dec. 27, officially named Winter Storm Euclid by the U.S. Weather Service. It dumped up to 14 inches of heavy snow in Vermont, with the deepest stuff along the slopes of the Green Mountain range. With it came the familiar litany: highway accidents, downed trees and power outages—and giddy skiers.
While it was an especially tough December for Vermont residents, how would you rate the management and staff of Green Mountain Power? They had the task of keeping the power on for all of us during the double furies.
We have to hand it to GMP for a job well done. Considering the assaults of Mother Nature on the utility's service area, it put a human face on the odious task; it did a great job by staying on top of many outages, fixing power lines that needed attention first, and then responding, as quickly as was humanly possible, to other hot spots.
While no utility company is perfect, you have to ask yourself: what human thing is ever "perfect" when facing the forces of nature?
I don't think we humans will ever master nature. At best, we can understand it, then deal with it on those terms. In times of tumult like these, my Brooklyn friend's 90-year-old mother likes to quote an old Italian proverb: "Piani di uomo, Dio ride." Translation: "Man plans, God laughs."
(Lou Varricchio)
Vote on this Story by clicking on the Icon