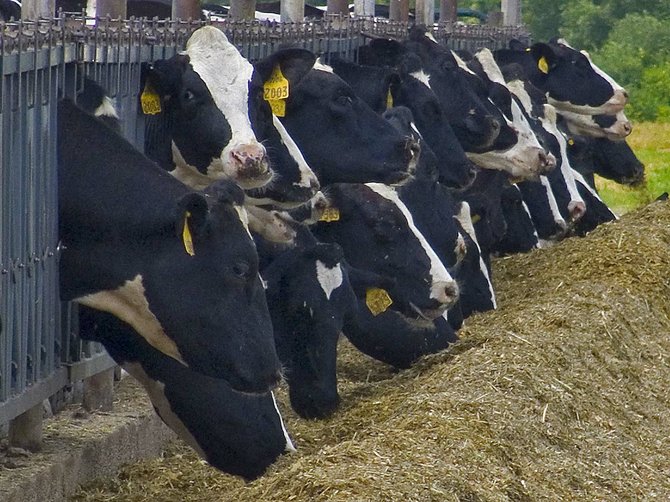 Montpelier — Vermont's congressional delegation, U.S. Sen. Patrick Leahy (D) and Sen. Bernie Sanders (I) and Rep. Peter Welch(D), has introduced legislation to extend a U.S. taxpayer-funded safety net that helps dairy farmers ride out downturns in milk prices. Without action, the legislative trio claim, dairy farmers could face a severe drop in support from the MILC safety net by Sept 1.

The MILC Continuation Act of 2012 would extend for one year the Milk Income Loss Contract (MILC) program at current support levels, which helps dairy farmers when the price of milk falls below $16.94 per hundredweight. Once triggered, farmers receive 45 percent of the difference between that price and the current price of milk, which also takes into account feed costs as a factor in triggering program payments.
The Farm Bill, which authorizes many programs under the purview of the U.S. Department of Agriculture, including the dairy safety net, is set to expire Oct. 1.
For the last month of the Farm Bill, after Aug. 31, the MILC program support levels for dairy farmers drop significantly. That would leave dairy farmers exposed without a sufficient safety net.

Although the delegation is committed to passing a Farm Bill with dairy reforms this year, with prospects for that bill uncertain, this legislation would ensure there is no lapse in the safety net for dairy farmers.

Welch, a member of the U.S. House Agriculture Committee, said, "Vermont's dairy farmers are hard-working and resilient. They have endured bad weather, high energy prices and low milk prices. What they cannot endure is the loss of this vital safety net. However Congress proceeds, it has to ensure dairy farmers are not left stranded."
When milk prices plunged in 2009, the MILC program was a critical lifeline for many Vermont dairy farmers.
Vote on this Story by clicking on the Icon