During the fall and winter the Rutland County Humane Society (RCHS) will modify its hours. Starting immediately, the RCHS shelter on Stevens Road in Pittsford will be open for adoptions and visiting with the animals Wednesday, Thursday, Friday and Saturday from noon-5 p.m. and on Sunday from 1-3 p.m. for visiting only (no adoptions). It will be closed on Monday and Tuesday. If you have any questions please contact the shelter at 483-6700 or visit our website at www.rchsvt.org.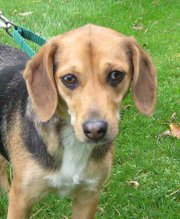 J.J.
One year old. Spayed Female. Merle Short Haired American Shelter Dog.
I am a cutie patootie of a dog. I've lived with dogs and cats and I am easy-going with people . . . and very social. Sometimes really big, "in your face" dogs make me nervous. . the dog I was used to living with is very mannerly. Some of the staff here call me "Tick" because of a certain roundness in my body. I would be healthier if I lost some weight. Wouldn't we all?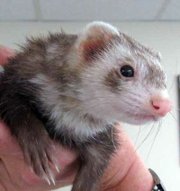 BELLE
Adult. Female.
I am a very active young ferret with a lot of exploring to do. I was surrendered because my previous family could not provide the care that I needed any longer. Play, play, play is what I like to do. I love to be handled and snuggle along your neck or walk on your back. If you have never owned a ferret please take the time to do a little research on my care and housing needs. I would love my next home to be my forever home.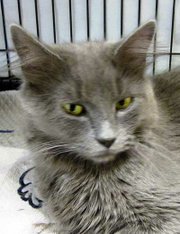 CUTSIE
One year old. Spayed Female. Domestic Long Hair Gray.
I am a super sweet little girl who came into RCHS with my four babies. I went into a foster home to raise them and now it is my turn to get the royal treatment. My name hints that I am a very cute girl and that is certainly the case. I really enjoy sitting on your lap and I am the perfect size for it. And with these winter months coming up it could be nice for you too. In my new home I would really like to be an inside only girl because I am far too petite to be an outdoor girl.
(Continued on Next Page)
Prev Next
Vote on this Story by clicking on the Icon