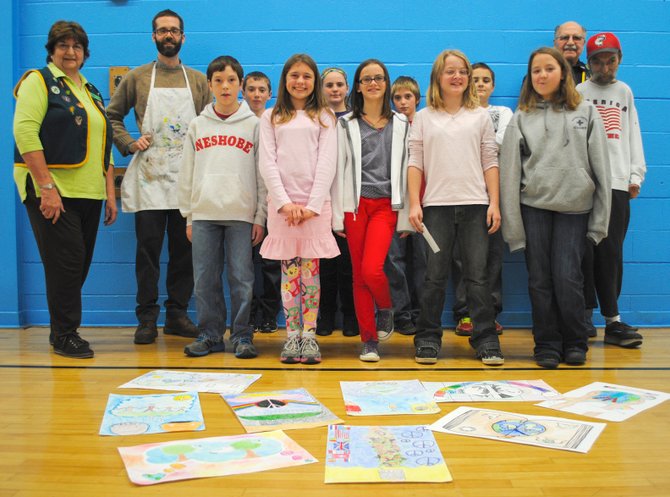 Brandon — Students of the Neshobe Elementary School in Brandon were given both an intellectual and artistic challenge by the Brandon-Forestdale Lions Club—imagine a world where peace triumphs over war and famine.
Each year, Lions clubs around the world proudly sponsor the Lions International Peace Poster Contest in local schools and youth groups. This art contest for kids encourages young people worldwide to express their visions of peace. For 25 years, more than four million children from nearly 100 countries have participated in the contest.
Each poster is judged on originality, artistic merit and expression of the theme.
Posters advance through several judging levels: local, district, multiple district and international. At the international level, judges from the art, peace, youth, education and media communities select one grand prize winner and 23 merit award winners.
The theme of the 2012-13 Peace Poster Contest is Imagine Peace. Students, ages 11, 12 or 13 on Nov. 15, are eligible to participate.
On the local level, the top winner receives $25 and moves on to state level competition. The second and third place winners receive $15 and $10 respectively.
Neshobe's top three winner are Nathan Claessens, first place, Elizabeth Farrar, second place, and Sophie Markowski, third place.
Fred Pockette, chairman of the Lions Club poster contest in Brandon, said it was tough picking a winner.
"They were all very well done and very creative," Pockette said.
Pockette joined fellow Lion Burt Reynolds, vice president of the local club, and Lion Patti Reynolds, to present the awards in the school cafeteria at 12:45 p.m. Nov. 9.
Guiding the students in creating the posters was art teacher John Brodowski. Beginning in mid September, he encouraged students to use color pencils and markers.
Other than following the theme, "Imagine Peace", students were free to explore the concept of world peace. Students had to complete the posters by Oct. 31.
"They were pretty much on their own to be creative," Brodowski said, "but I advised them to use balance and contrast to create more visually powerful posters."
The state winner will be announced later this month.
Vote on this Story by clicking on the Icon