Did you know that you can drop off your redeemable bottles and cans at the Rutland County Humane Society (RCHS) and help the animals?
Thanks to generous folks in our community, we now have a dry and secure shed for supporters to drop off redeemable bottles and cans.

G.E.-Rutland volunteers and four handy RCHS volunteers made it a reality for us. The shed is located at the back of the shelter on Stevens Road in Pittsford.

If it's more convenient you can drop the bottles and cans at Green Mountain Bottle Redemption in the Howe Center in Rutland. Just let them know they're for RCHS. Those nickels all add up so please drop off your redeemables. If you have any questions please call RCHS at 483-6700. The animals say thanks.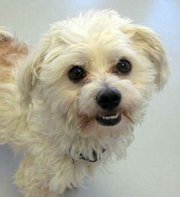 JOMBY
Two year old. Neutered Male. White Curly Haired American Shelter Dog.
I'm an adorable, happy-go-lucky fella who loves being with people. I'm as cute as a button and I'm a joy to be around. I love to dance and will spin around in circles smiling the whole time. I'm also pretty playful and enjoy my toys. I ride well in the car and hope I can go for rides with my new family. If you're looking for an upbeat guy who will make a great companion please stop by and say hi.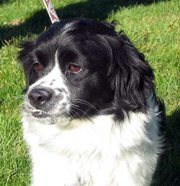 DUKE
Two year old. Neutered Male. Black & White American Shelter Dog.
I'm a timid, quiet fella who is looking for a family with a lot of patience so I can take the time I need to settle into my new home. When I first meet new people I am shy and nervous but after a while I get more comfortable and I start to relax. I have started to bond with the staff here at the shelter and I'm getting friendly and playful around them but it's still a work in progress. If you have the patience to give me the love and time I need to relax and trust you I think I will be worth the wait.
(Continued on Next Page)
Prev Next
Vote on this Story by clicking on the Icon