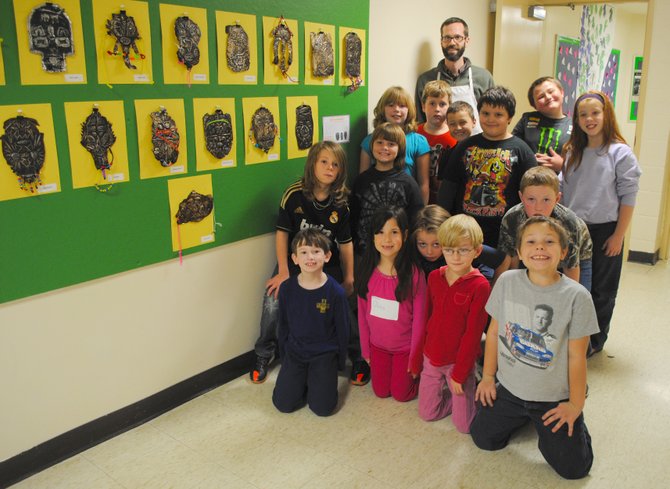 Brandon — You can tell immediately that art teacher John Brodowski of the Neshobe Elementary School loves his job. But having grown up in the Brandon area—himself having been a student at both Christ the King School, the Neshobe School, and Otter Valley Union High School—this young art instructor found it challenging to return to his youthful stomping ground.
"It was strange at first," he said, "but I adapted quickly. I discovered that I owe a lot to both Neshobe and Otter Valley."
Brodowski, a member of OV's class of 1998, received his BFA degree at Montana State University and his teaching certificate through the Upper Valley Institute. Now he teaches K-6 art at the venerable Brandon school.
Brodowski said he was strongly influenced by OV art instructor Jim Samler and Neshobe art teacher Dennis Marden.
"Both men inspired me to pursue the arts and to teach," he said. "They made a considerable impact on my life for the positive. I was very honored to have been Mr. Marden's replacement as art teacher at Neshobe when he retired."
Brodowski said Neshobe has a strong commitment to art. Its mission is to connect young students with themselves, the local community, and the world beyond.
"There's nothing like art to make all kinds of connections," Brodwoski said.
The art teacher said he incorporates a variety of materials in all his school art classes—paints, clay, inks, wood, paper mache, pastels, even digital drawing pads and some digital photography.
"Our students have lots of energy and amazing senses of wonder," Brodowski said. "Somewhere along the line, we adults lose that wonder, the passion in the world around us. Children inspire me."
Recently, Brodowski oversaw an artistic challenge to students posed by the Brandon-Forestdale Lions Club—to imagine a world where peace triumphs over war and famine.Students created colorful posters that were judged; one student will enter the Lions Club statewide competition (see related story in last week's paper).
(Continued on Next Page)
Prev Next
Vote on this Story by clicking on the Icon