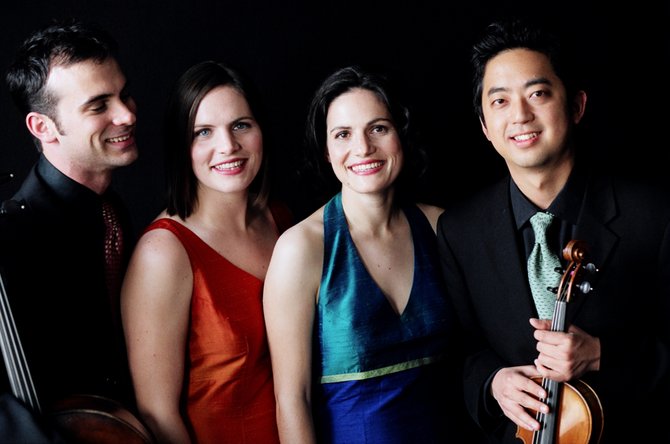 Middlebury — For classical music buffs, the Jupiter String Quartet is known for its blazing, passionate, and energetic performances. This well established, award-winning quartet will visit Middlebury College as part of the campus Performing Arts Series.
While the news of Jupiter's landing in Middlebury is exciting for local fans, the down side—alas, the goblet of life is never quite filled to the brim—is that the quartet's visit include only one evening concert, 8 p.m., Friday, Nov. 30.
Another concert, geared for students, will be a midday recital Thursday, Nov. 29.
Still, music fans locally shouldn't look a gift horse in the mouth; think of this goblet half filled, but with the finest from the owner's cellar. These twin concerts are free and open to the public, thanks to funding from the Institute for Clinical Science and Art.
The Jupiter String Quartet's 12:30 p.m. performance Nov. 29 will feature Kurtag's quirky "12 Microludes". The quartet will also play Schubert's "Quartet in G Major, D. 887".
For the evening concert Nov. 30, the quartet will perform Mozart's "Quartet in D", Bartok's "Quartet No. 1", and the Brahms' "Quartet in C Minor".
The Jupiter String Quartet has been in existence a mere dozen years, yet it has captured the hearts of souls of music fans.
The quartet keeps it all in the family: Violinists Nelson Lee and Megan Freivogel, violist Liz Freivogel—Megan's older sister—and cellist Daniel McDonough, husband of Megan, and brother-in-law of Liz.
Members of the quartet keep busy. When not performing, they are teaching. They are faculty members of the University of Illinois (as String Quartet-in-Residence), they are visiting faculty at Oberlin Conservatory and Adelphi University, and faculty at Atlanta's renowned Spivey Hall.
While in Middlebury, the quartet will perform new works for string quartet by Middlebury College students, and will provide feedback to the young composers, according to the college. This residency work is made possible by the Rothrock Family Fund for Experiential Learning in the Performing Arts, established in 2011.
The two concerts will be held in the Mahaney Center for the Arts Concert Hall located at 72 Porter Field Rd. in Middlebury, off Route 30. No tickets are required. Parking is free. Enjoy.
Vote on this Story by clicking on the Icon