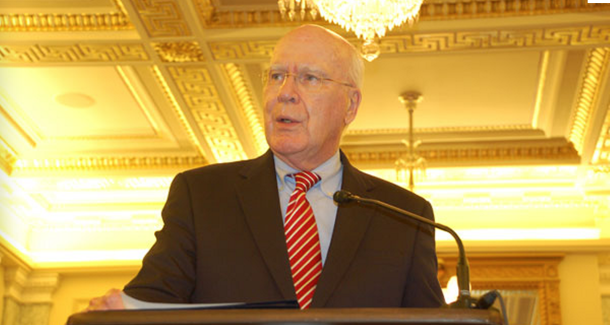 Middlebury — Proposed legislation once touted by Vermont U.S. Sen. Patrick Leahy (D) as providing strong e-mail privacy protection for everyday citizens has been rewritten behind-the-scenes, according to a report published by CNET Nov. 20. CNET is a technology website that publishes news about technology and consumer electronics.
"Leahy's proposal now gives government agencies more surveillance power than they possess under current law," according to CNET Washington reporter Declan McCullagh.
Leahy, chairman of the Senate Judiciary committee, has "dramatically" reshaped his legislation, McCullagh reported.
The Senator's change of heart and mind, according to McCullagh, has been due to pressure he received from the nation's law enforcement officials.
A Senate vote on Leahy's bill, which would ok warrantless access to e-mail in special cases, is planned for this week.
If approved, Leahy's revised bill would permit 22 federal agencies, from the Securities and Exchange Commission to the Federal Communications Commission, to gain access to e-mail, Google files, social networking wall posts, and messaging sites, without the need of a search warrant, providing access is defined as a law enforcement "emergency".
If approved, Leahy's redrafted bill would give the FBI and Homeland Security stronger authority to access Internet accounts without need to contact a judge or the account's owner.
"It's an abrupt departure from Leahy's earlier approach, which required police to obtain a search warrant backed by probable cause before they could read the contents of e-mail or other communications," according to McCullagh. "The Vermont Democrat boasted last year that his bill 'provides enhanced privacy protections for American consumers by requiring that the government obtain a search warrant.'"
A statement by Leahy's office Nov. 21, said the senator's proposal does not sanction warrantless searches of e-mail.
Vote on this Story by clicking on the Icon