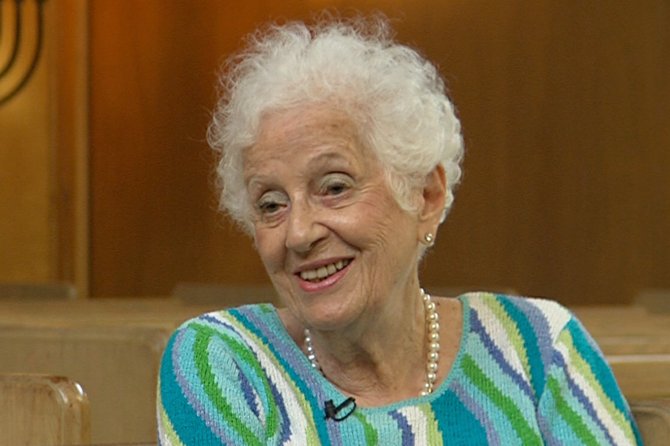 Middlebury — Annette Nadelson Lazarus of Middlebury will be featured on an upcoming television documentary, titled "Little Jerusalem", about Vermont's Jewish community. The film will be broadcast on Vermont Public Television Dec. 6, Dec. 8, at 5:30 p.m., and Dec. 10, at 9 p.m.
"Little Jerusalem" will explore the lives and culture of the Jewish people of Vermont at large, but with a special focus on early Jewish immigration in the Burlington area.
According to the interview with Lazarus, most of the first Jewish immigrants came to Burlington with next to nothing.

"With few options for work open to them, many became peddlers, walking miles with back-breaking packs," according to historian Jeff Potash. "They were determined to preserve their religious traditions, and they came home weekly to observe the Sabbath".

According to Lazarus, a furniture maker in Burlington let devote Jews hold a prayer congregation—called a minyan—in his Old North End workshop.
Lazarus' also speaks on camera about her father, a well-respected and honored cantor.
VPT's Dorothy Dickie, producer of the film, said "Many Eastern European Jews sought freedom from repression here; some came from neighboring rural villages in Lithuania to Burlington, a busy lumber port amid countryside that reminded them of home."
Dickie said interviews with living community members, such as Lazarus, provide an oral history of the Jewish story in Burlington and beyond.
Potash provides historical commentary in the film. He explains how the community began and how it evolved over a century,
"They reproduced old world Orthodox life here," Potash said, of Burlington's early Jewish community.
"The film combines archival images, and interviews with historians and descendants of the original settlers, to tell the little-known story of a traditional Jewish community that thrived in Burlington's Old North End from the 1880s to the 1940s," according to Dickie.
"Most of the first Jewish immigrants came to Burlington with next to nothing. With few options for work open to them, many became peddlers, walking miles with back-breaking packs," she added. "Determined to preserve their religious traditions, they came home weekly to observe the Sabbath."
(Continued on Next Page)
Prev Next
Vote on this Story by clicking on the Icon