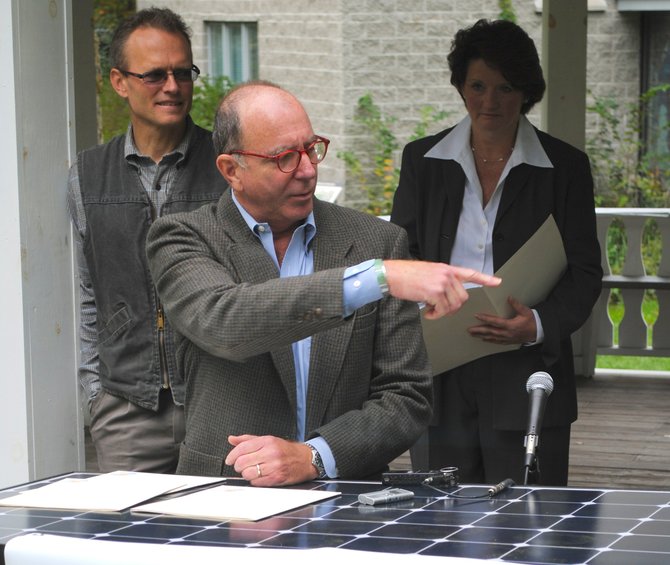 Middlebury — A new financial and installation effort by a solar energy initiative, is off and running to get more Addison County homeowners installing solar-electric panels in the next year or so.
Officials of Waterbury-based SunCommon, which is part entrepreneurial, part solar advocacy, said they will be able to get local homeowners to "go solar" without upfront costs.
The self-described socially responsible businesses opened its doors in Addison County, to provide solar to residents, Oct. 2.

SunCommon's Duane Peterson, co-president—along with Dan Conant and Jessica Edgerly—were joined by State Reps. Diane Lanpher (D) and Willem Jewett (D), as well as Ferrisburgh Energy Coordinator Bob McNary.
The group announced the new Addison County "green" business venture at the gazebo on the Middlebury Green last week.
"I have never met a Vermonter who wasn't interested in going solar, but solar used to be too expensive," Conant said. "And Addison County residents can now get solar with no upfront cost—and a monthly payment that is the same, or less, than what the homeowner would have had to pay the electric company."
Conant told reporters that SunCommon promises to install solar electric systems by converting a homeowner's utility bill into a new monthly solar-power payment.
McNary—along with other individuals—were instrumental in getting the Vermont company to open operations in Addison County.
"When I first heard about SunCommon in March, it was obvious to me what they could do to increase renewable energy in Ferrisburgh," said McNary. "So, I called them up and asked them what it would take to bring them down to Addison."
SunCommon's Conant said the firm responded to McNary's request after it had received other requests.
"More than 100 families across Addison County lobbied SunCommon to make this opportunity available to them," he said. "So, we got ourselves here as soon as we could."
(Continued on Next Page)
Prev Next
Vote on this Story by clicking on the Icon