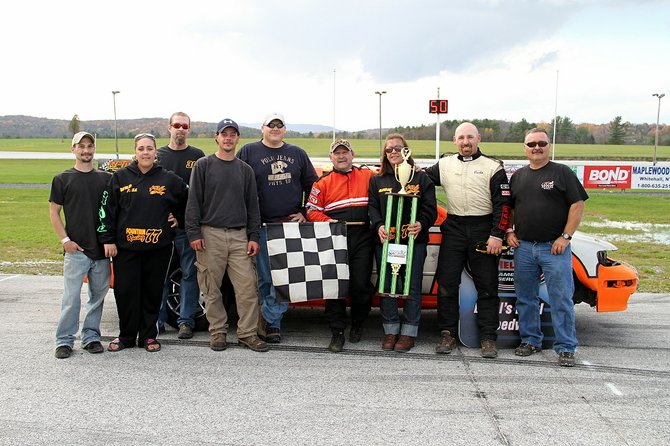 West Haven — "Wild Bill" Fountain survived a wild race and narrowly avoided catastrophe to win the "Vermonster 150" Enduro stock car race at Devil's Bowl Speedway on Saturday. The Altona, N.Y., driver, a veteran of Late Model and Modified racing since 1977 who has recently taken up Enduro racing, led nearly every step of the 150-lap grind for the victory.
Fountain's virtually stock 1999 Nissan Maxima was running nearly three laps ahead of the field when he quickly approached the lapped car of Kevin Sorel, who was running inside the top five with just 20 laps remaining. Fountain swerved to avoid Sorel's slowing car, but made heavy contact and badly damaged the right-rear corner of his machine. Fountain pressed on, limping his car at half-speed as second-place driver Brett "Woody" Wood of Georgia, Vt., clicked off the laps, and was able to hang on to take the win.
Wood, who lived up to the track's "Splash and Crash" billing after recent heavy rains flooded parts of the facility, survived a muddy off-track excursion with his 2002 Mitsubishi Eclipse at mid-race to finish in second place, one lap behind Fountain.
Wood's son, Zach "Beaner" Wood, used an entertaining "drifting" method, sliding the back of his 1996 Subaru Impreza in nearly every corner, to finish third on his 17th birthday, nine laps behind the winner. Cory Gray of Rutland, Vt., finished fourth, unofficially, with 138 laps complete, and Richie Turner of Fairfax, Vt., finished fifth, one lap behind Gray.
Gary Grant of Addison, Vt., took his second Spectator Race win of the season with his 2008 Ford Mustang. Grant defeated Leicester, VT's Dan New, who drove a 2001 Honda Civic; New defeated a Mustang driven by Jeff Breslen of Castleton, Vt., in the preliminary round.
The Vermonster 150 Enduro drew the 2012 Devil's Bowl Speedway racing season to a close. The track's top drivers from the weekly NASCAR Whelen All-American Series program will be honored at the Banquet of Champions on Saturday, February 2 at the Holiday Inn Rutland-Killington in Rutland, Vt. Further details will be announced soon.
(Continued on Next Page)
Prev Next
Vote on this Story by clicking on the Icon