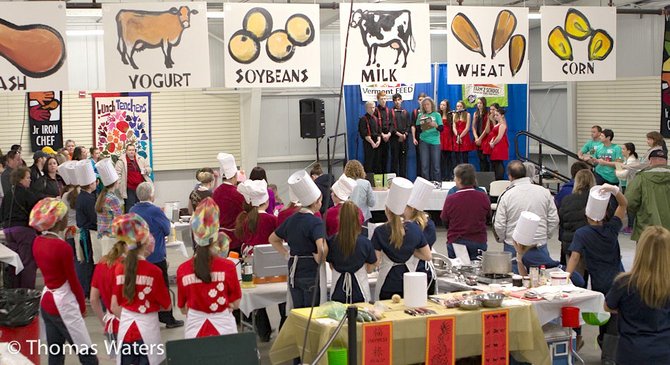 Essex Junction — Cooking fabulous, delicious dishes isn't just for the big, bossy artisan chefs you see brooding and fussing on television. The annual Junior Iron Chef Vermont contest proves that even young people, especially teens with lots of smiles, can display a genuine creative flair in the kitchen.

On Feb. 2, 330 middle and high school students from across Vermont—with several participants from Chittenden, Addison, Rutland and Windsor counties—gathered at the Champlain Valley Expo Center to participate in the Sixth Annual Junior Iron Chef Vermont competition.
The event, which lasted just 90 minutes, had young chefs cracking, eggs, whisking bowls, and sizzling onions under the ticking minute hand of a timer clock. Students had to use original recipes and local farm ingredients that could be used in a school lunchroom.
Students actually began preparing for the Feb. 2 event back in September. There were 74 teams competing representing 55 Vermont schools. Members of the Burlington School Food Project and Vermont FEED are the event's co-organizers.
On the event judging stand were several notable chefs: Rowan Jacobsen, a James beard Award chef and author, and school chef Meggen Hanna judged the dishes of the junior chefs.
The Expo hall was packed with more than 1,000 spectators, consisting mostly of family, friends, and teachers. Live music egged on the junior chefs—pun intended— by local youth bands Diversity Rocks! and Sweet Transition.
"Junior Iron Chef Vermont and the Vermont Farm to School movement are models that I am proud to recommend to the whole country," said U.S. Sen. Patrick Leahy (D) the event's VIP.
Prizes were awarded for both morning and afternoon heats in both the middle and high school team categories. And the event's Best in Show awards represented recipes that incorporated colors, textures, and taste. The Lively Local Award represented recipes that best highlight Vermont foods.
(Continued on Next Page)
Prev Next
Vote on this Story by clicking on the Icon