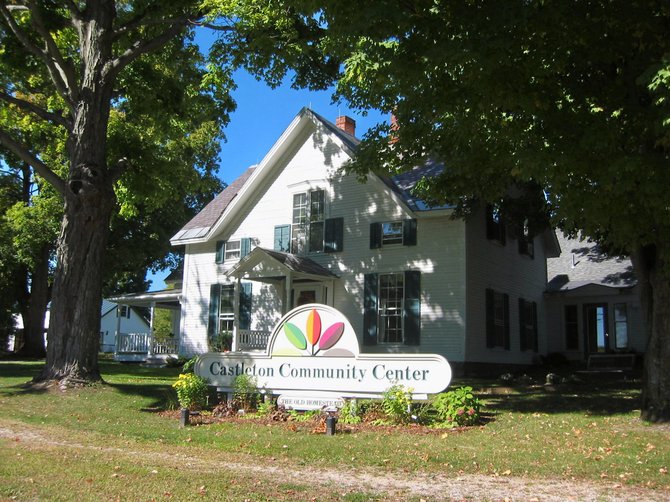 Castleton — You don't have to be a Castleton resident to enjoy the activities of the Castleton Community Center's Winter Enrichment Series. The following presentations will be held on Wednesdays, 1-2:30 p.m., Feb, 20, 27 and March 6.
Feb. 20: Types of Gardens for Vermont.
Scott Courcelle, owner of Alchemy Farms in West Rutland will speak on different types of vegetable gardens, including raised beds, mounds, and gardening in pots. Did you ever wonder what should be planted together and what should not? Should you rotate your plantings year to year?
Ann Honan, a professor at the community center will give a presentation about rain gardens.
Rain gardens are flower gardens with a deeper purpose. These nature-loving gardens are built as depressions in the ground to capture rain water runoff from a roof or driveway or road. Rain gardens incorporate native perennial plants that endure in the environment and attract local wildlife.
Feb. 27: Hydroponic Gardening.
Jay Jones of Vermont Hydroponics will be at the center to speak about the methods and reasons for growing vegetables using the hydroponics technique. They are grown in nutrient rich water without soil. They are never exposed to pesticides, air pollution, animals, or bacteria from soil. The best part is; they can be grown year round.
March 6: Enhancing Your Garden with Worms and Gardening Indoors and Out.
Master Gardener Elaine Nordmeyer will give a presentation about the importance of earthworms in Vermont gardnes. How important are worms to your garden? How do you increase the number of worms? What are the right kinds of worms to use? Jean Perry will be here to share her tips on flower gardening and indoor plants.
There will be a question and Answer period after all presentations.
Enrichment series registration fee is $3 per session.
March 2: Bus Trip to the Vermont Flower Show.
The Castleton Community Center will host a bus trip to the Vermont Flower Show on Saturday, March 2.
You must register for the Flower Show by Feb. 25.
The fee for the bus trip is $20 for seniors and $23 for non-seniors.
For more information, contact the Castleton Community Center at 802-468-3093. The center is located at 2108 Main St.
Vote on this Story by clicking on the Icon