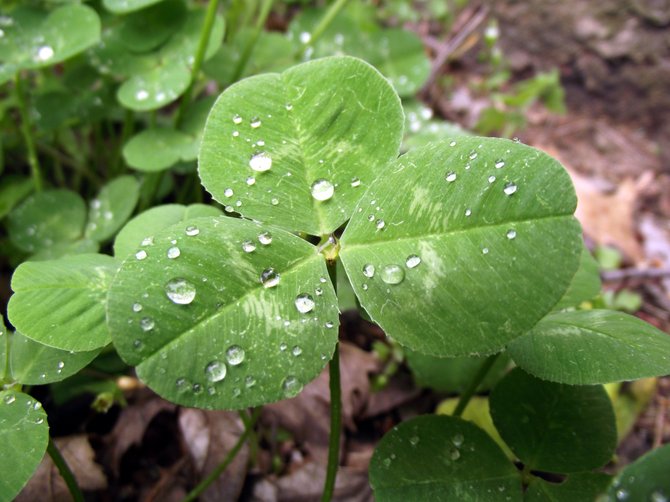 Burlington — You don't have to be Irish to wear green on St. Patrick's Day, nor do you need a green thumb to grow shamrocks indoors. This plant, which is associated with this March 17 holiday, is quite easy to grow.
Shamrocks are a member of the Oxalis (wood sorrel) family, which contains more than 300 species. Most of these grow from small bulbs although some have tuberous roots. The distinguishing characteristic is the three rounded or triangular-shaped leaves at the end of delicate stems. Most oxalis plants fold up their leaves at night, hugging them tight to the stems until daylight "wakes them up" again—described botanically as "nyctinastic movement." Due to oxylates in plants, they may be toxic to cats, dogs, and horses if ingested in large quantities.
The familiar St. Patrick's Day species (Oxalis acetosella) is available at florist shops and many grocery stores this time of year. It has tiny, dark green, triangular leaves and grows to a height of about six inches. This variety hails from Europe, Iceland, and Asia. It is not the official Irish shamrock (Trifolium dubium), a yellow-flowered clover or trefoil, which is what the majority feel is the authentic species. That clover is difficult to grow indoors, so nurseries and florists sell Oxalis plants instead. If you are wondering how the shamrock became part of Irish history, there are many explanations going back to the significance placed by the ancient Celtic peoples in the number three. The most popular story is that St. Patrick, who is credited with bringing Christianity to Ireland in the second half of the fifth century, once plucked a shamrock from the grass at his feet to illustrate the doctrine of the Holy Trinity to his congregation. St. Patrick's Day, which is celebrated on the anniversary of his death, also heralds the arrival of spring. The shamrock was adopted as a symbol of both this patron saint and the "season of rebirth," and can be seen on ancient coins and medieval tombs.
(Continued on Next Page)
Prev Next
Vote on this Story by clicking on the Icon