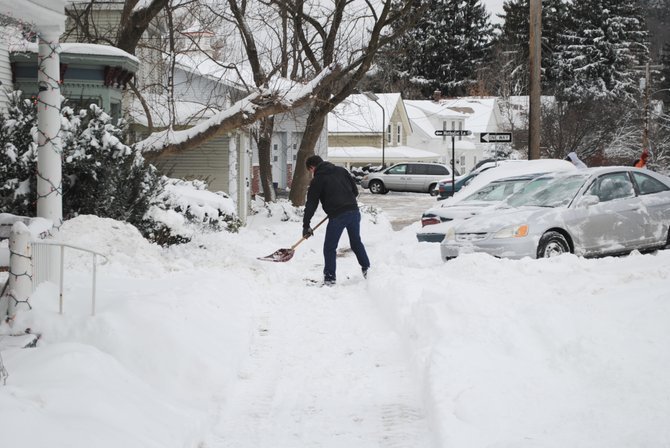 Middlebury — Ben Wilson, president of the Better Middlebury Partnership, updated the Middlebury Select Board on BMP activities. BMP is searching for a Marketing Administrator, the second round of interviews is coming upk, and reviewing recent events (Spooktacular and Very Merry Middlebury). Preparations for upcoming events, including the Chili Fest March 9, and the status of its effort to engage the community in a conversation about the future of retail in Middlebury.
Middlebury Business Development Fund Advisory Board
Concluding a nation-wide search process, the Middlebury Business Development Fund Advisory Board unanimously recommended and the Selectboard unanimously agreed to the appointment of Jamie Gaucher as the Middlebury's first Business Development Director. Jamie is currently the Deputy State Director of the Small Business Development Corporation in West Virginia. Jamie will start work April 1, 2013.
Ilsley Library Board of Trustees
Library Trustee David Andrews informed the Board of the Library Trustees' selection of Kevin Unrath as the town's new library director. Current Library Director David Clark will retire March 15 and Kevin will start as the new director on April . A reception celebrating David's work will be held on March 15 with details to follow.

Establishing a Joint Middlebury Area Land Trust/Town Committee on the Powerhouse
In an effort to develop determine short and long term plans focused on safety, security, preservation and public access for the powerhouse ruins (located on the north bank of the Otter Creek, just west of the Battell Bridge), Middlebury Area Land Trust President Story Jenks and Executive Director Carl Robinson discussed establishing a joint MALT/Town Committee on the powerhouse, as proposed at a recent MALT Meeting, with the Selectboard. The Selectboard will solicit volunteers to serve on the joint Committee.
Main Street & Merchants Row Railroad Overpass Bridge Replacements
The Board approved the proposed agreement with VHB (Vanasse Hangen Brustlin, Inc.) for professional engineering services for the replacement of the Main Street and Merchants Row bridges, subject to approval of the agreement by the Vermont Agency of Transportation and the Federal Highway Administration. There will be a Local Concerns Meeting on the project held at the Town Hall Theater on March 28. The intent of the meeting is to discuss the project development process, the project limits and the existing conditions of the project area, as well as to receive input about the proposed project from all interested parties.
(Continued on Next Page)
Prev Next
Vote on this Story by clicking on the Icon