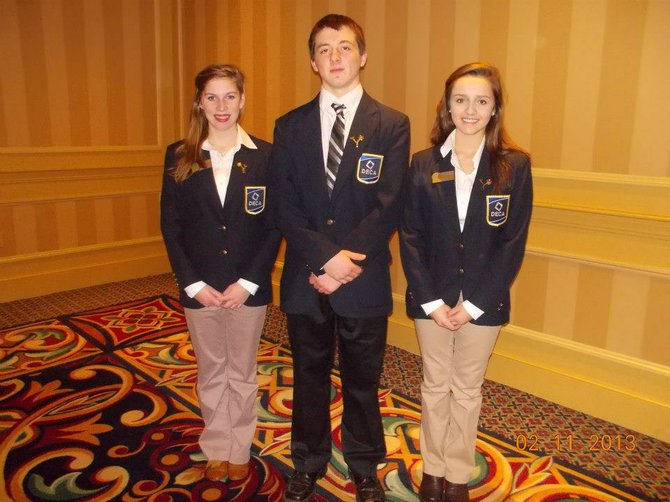 Rutland — Last week, Stafford Technical Center Hospitality and Entrepreneurship students in Rutland participated in the annual Vermont DECA Career and Development Conference.

Events include public speaking, role plays and written tests. Students that earned gold medals and 2nd year students will be attending the National DECA Conference in Anaheim, California in April.
DECA stands for Distributive Education Clubs of America and prepares emerging leaders and entrepreneurs for careers in marketing, finance, hospitality and management in high schools and colleges around the globe.
Teresa Isabelle, a senior at Proctor High School completed her term as Secretary of Vermont DECA. She plans on furthering her hospitality education at Southern New Hampshire University in the fall.
The following students participated:
Alayna Billings-Mill River Union High School Senior
Katelyn Young-Mill River Union High School Senior
Hospitality Services Team
Savannah Fredette- West Rutland High School Junior
Principles of Hospitality
Alyssa Ruiter- Mill River Union High School Senior
Retail Merchandising
Shelby Mackey- Fair Haven Union High School Senior
Principles of Hospitality
Kaleigh Gilbert –Rutland High School Sophomore
Silver- Public Speaking
Honorable Mention- Principles of Hospitality Written Test
Bronze-Overall Principles of Hospitality
Kristina Shaw- Rutland High School Junior
Principles of Hospitality
Gold – Written Test
Silver- Role Play
Gold- Overall
Teresa Isabelle – Proctor High School Senior
Hotel and Lodging Management
Role Play 1 Bronze
Role Play 2 Gold
Overall Silver
$1,500 Southern New Hampshire University Scholarship
Soleil Bosley- Rutland High School Junior
Principles of Marketing
Gold-Written Test
Vote on this Story by clicking on the Icon