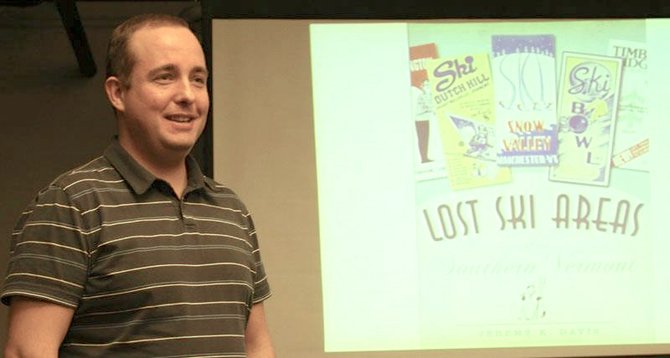 Ludlow — Last June, on my way to visit family in my native Pennsylvania, I took the road less traveled. I drove through a beautiful, less frequented portion of New York's Catskill Mountain vacation region. Nestled among the trees, right along a cracked and faded county highway, were the crumbling remains of an abandoned summer resort, probably dating to the 1960s.
Why the mountain resort had closed, I hadn't a clue, but the ruins—which included an eroded Olympic-size swimming pool, now filled with brackish water, and weed-choked tennis and shuffleboard courts—echoed with the ghostly laughter of long-gone summer vacationers. There's nothing sadder to me than a lost dream.
What I never realized, at least until I came across a new book by author Jeremy Davis, is that Vermont has its own night gallery of ghost resorts, too. Davis' book, titled "The Lost Ski Areas of Southern Vermont", tells the story of the rise and fall of things.
In the case of the Green Mountain State, the resort ghosts are the numerous, long-closed, and nearly forgotten, ski areas.
With the slopes of these dead resorts now largely covered with mature tree growth, and their alpine warming huts crumbled to mildewed heaps or consumed by voracious carpenter ants, these ski places take us back to a simpler time—a time before apres snobs, and the gentrification of most everything, ruined many an outdoor experience for the rest of us.
Hidden among the hills and mountains of southern Vermont are the slowly disappearing remnants of 60 ski areas. Each has its own sad story.
In most cases, the slopes of these resorts—from the modest to the plush—have returned to forest. You may even catch glimpses of rusting ski lifts with their passenger chairs scattered on the ground.
"Today," according to Jeremy Davis, creator of the New England Lost Ski Areas Project online and author of the excellent book , "only 14 remain open and active in southern Vermont. Though they offer some incredible skiing, most lack the intimate, local feel of these lost ski trails."
(Continued on Next Page)
Prev Next
Vote on this Story by clicking on the Icon