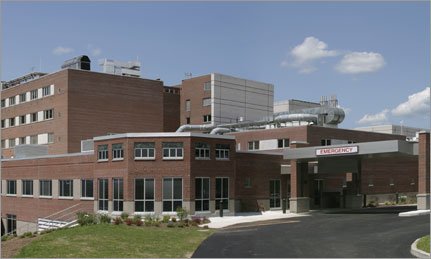 Rutland — Rutland Regional Medical Center will host Green Mountain Power's third Rutland solar farm under a lease agreement designed to make use of hospital land with few other potential uses.
"We support GMP's Solar Capital initiative and see this project as an introduction to solar energy at Rutland Regional," President Thomas Huebner said. "We want to support the Solar Capital effort and gain some experience with solar energy ourselves."
"The Solar Center at Rutland Regional, as the project will be known, will be a visible, productive symbol of the hospital's commitment to economic development and the community at large," said Mary Powell, GMP's president and CEO. "We expect the center, which will include a 150-kilowatt solar farm and educational information on renewable energy, will become a destination for local schoolchildren and adults."

"The Solar Center at Rutland Regional is a big step toward fulfilling our commitment to make Rutland the center of solar development in Vermont and New England," said Steve Costello, GMP's vice president for generation and energy innovation. "We're building momentum with each project, and are optimistic that several other projects will be announced in the next few months."
The solar center will be built on Rutland Regional property surrounding two stormwater retention ponds just south of Allen Street, adjacent to the hospital's walking path. "There is little potential for other uses of that corner of the property, so we see this as a great way to put it into productive use," said Mary Nemeth, Rutland Regional's vice president for corporate support services.
GMP, which will own and maintain the solar center, will put it out to bid this month. Under a 25-year lease agreement with Rutland Regional, GMP will credit the hospital for 10 percent of the project's output. The remaining energy will go onto the local electric grid and will be consumed by local GMP customers.
(Continued on Next Page)
Prev Next
Vote on this Story by clicking on the Icon