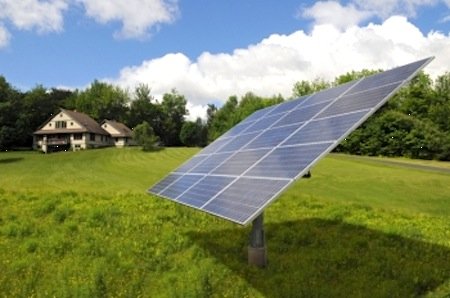 Rutland — With several in-state competitors aggressively marketing solar-power installation services to consumers, the movement to convert Vermont homes and businesses to sun power is experiencing boom times.
Several Vermont firms are competing to install solar arrays at "no cost" to the consumer.
Now Vermont's largest developer of solar in the state, AllEarth Renewables, has announced its newest incentive to get more residents on board.
AllEarth Renewables officials said their firm's new "residential lease" is unique in the state by offering a no cost lease for homeowners to net meter with solar at or below their electric rates and be given the opportunity to fully own the system at a significantly reduced cost after 7 years.

These projects will consist of between one to four Vermont-manufactured AllSun solar trackers.
AllEarth said its community-scale solar lease features a no-cost program but with a guaranteed electric bill savings of 10 percent a year for larger customers, such as businesses, non-profits, schools, municipalities, and other institutions. These projects will consist of 10 trackers or more and can cover all or a percentage of the customer's annual electricity demands.
The lease payments under both options in this "home state" program will be at or below the customer's electricity savings, producing a zero net-cost agreement.
This type of third-party financing model now makes up the majority of solar installation nationally, but isn't normally available throughout smaller markets like Vermont.
"As a local manufacturer, we are excited to again be able to offer to our Vermont customers a financing option for residential, business and community projects, giving them the opportunity to net meter their energy and produce immediate savings on their electric bills," said David Blittersdorf, president and CEO of AllEarth Renewables.
The new program mirrors one that AllEarth Renewables offered in past years, which financed more than $18 million in residential installations and solar orchards for businesses and communities around the state. The company has more than 1,800 AllSun Trackers in Vermont alone and is an Inc. 500 company for fastest growing companies nationwide.
(Continued on Next Page)
Prev Next
Vote on this Story by clicking on the Icon