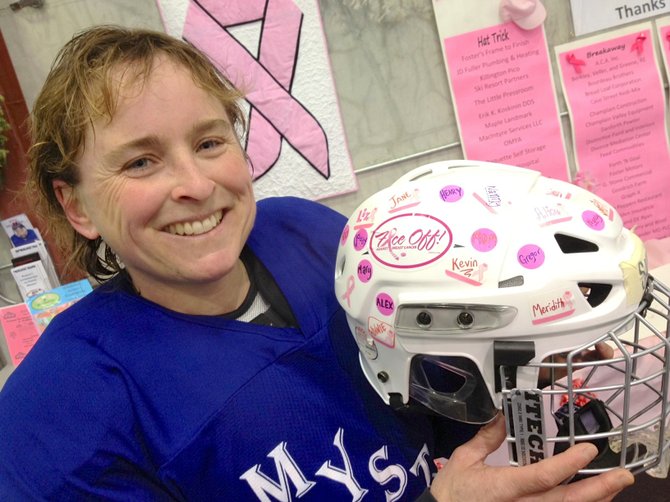 Middlebury — The Middlebury Otters and the Middlebury Mystix, two women's community ice hockey teams, will host the 14th annual "Face Off Against Breast Cancer" hockey tournament on Saturday and Sunday, Jan. 19-20, at the Memorial Sports Center in Middlebury.
Last year, the event raised over $70,000 for the statewide Cancer Patient Support Program, and the Otters and Mystix are hoping to break that record in 2013. Over the course of its history, the Face Off Against Breast Cancer has raised over $270,000 for charity.
In addition to hockey games, the Face Off Against Breast Cancer also includes several other associated activities on the tournament weekend.
A fun-filled benefit concert with The Horse Traders will rock Two Brothers Tavern in Middlebury on Saturday night, Jan. 19 from 9 p.m. to 1 a.m. Two special guest speakers will also appear at the tournament: on Saturday at 4:25 p.m. Chef Curtiss Hemm, founder of Pink Ribbon Cooking, will talk about how food can help improve the quality of life before, during, and after a breast cancer diagnosis.
On Sunday, at 3:40 p.m., radiation oncologist and professor Dr. Ruth Heimann will share recent developments in breast cancer.
The tournament committee is also seeking business sponsorships in the amounts of $25-$2,500. Sponsorship information is available online at www.faceoffagainstbreastcancer.org or checks made out to FOABC may be mailed to: P.O. Box 421, Middlebury 05753.
Vote on this Story by clicking on the Icon