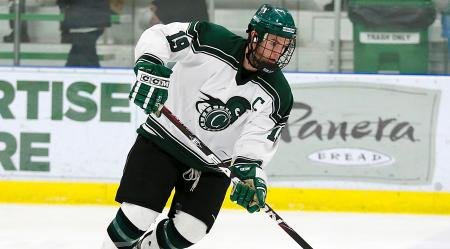 Castleton — The men of the Castleton State College Spartans rallied behind two freshmen to earn it's seventh victory of the year, 4-3 over Plymouth St. Eric Mack scored the first two goals of his collegiate career, and Ryan Delorme notched the game-winner in the final minutes for the Spartans.
The Spartans maintained constant offensive pressure throughout the duration of the game, but found themselves behind 3-2 entering the third period. The squad was able to edge out the Panthers, scoring two goals in the final frame to earn the 4-3 win.
Dan Bell opened the scoring 4:16 into the game when he slotted home his fifth goal of the season. Ryan Frost and Brad Barber earned assists on the play. The Spartan lead was extended just over two minutes later when Eric Mack scored his first career goal, putting Castleton up 2-0. Plymouth State kept the game close with a goal from Zach Sarig, making the score 2-1 at the first intermission.
In the second period, Castleton outshot the Panthers 22-9, but Plymouth State goalie Tyler Ingerson stopped all of the Spartans' attempts in the frame. With 12:21 remaining in the period, Zach Fox tied the game for the Panthers with his sixth score of the season.
In the opening seconds of the third period, Plymouth St. cashed in on a power play opportunity, converting to take a 3-2 lead just 14 seconds into the frame. Just 50 seconds later, freshman Eric Mack answered the call, scoring his second goal of the game, and tying the score 3-3.
Late in the third period, Castleton found itself on a power play. Delorme ripped a shot past Ingerson giving the Spartans a 4-3 lead with just 2:51 remaining in the game.
The Panthers did their best to force overtime, but the Spartans defense stood fast to preserve the win, killing off a final minute power play and a 6-on-4 opportunity after the Panthers pulled their goalie.
Castleton goaltender Jake Stafford made 19 saves for his first win of the season, while Ingerson stopped 42 attempts for the Panthers.
Spartans defenseman Brian Greene was named to the All-Tournament Team for his efforts in the tournament. The Spartans improve to 7-5-1 on the year and will host Potsdam on Jan. 4, at Spartan Arena in Rutland.
Vote on this Story by clicking on the Icon