This February there are specials for getting your cat spayed or neutered at Vermont Companion Animal Neutering (Vt.-CAN) through the Rutland County Humane Society (RCHS). Cat spays are $20 and cat neuters are $50.
RCHS is partnering with Vt.-CAN to get Rutland County cats spayed and neutered. Vt.-CAN, a low cost spay/neuter clinic located in Middlesex, Vt., is a long drive from Rutland County. To help out, RCHS and Vt.-CAN are working together to make it easier for cat owners.

By dropping your cat at the RCHS shelter, volunteers will transport your cat to Vt.-CAN where he or she will be spayed or neutered and given a rabies shot, and returned to RCHS later that day.

The next available dates are Feb. 5 and Feb. 28. Prior registration is required and Vt.-CAN fees for services apply. To register, please call RCHS at 483-6700. For more information visit www.rchsvt.org or for more information about Vt.-CAN visit www.vt-can.org.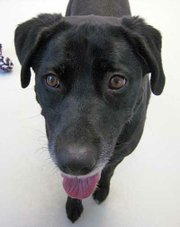 BASIL
Four year old. Spayed Female. American Shelter Dog.
I'm an affectionate dog with a real passion for tennis balls. A mid-air catch is no problem for me and I will fetch till the cows come home. I know how to sit and drop but that staff here recommends a harness for me as I am quite strong on leash. I've lived with dogs and cats before and could probably adjust to a multi-animal home fairly easily. I know it's all frozen over now, but I do love water—can't you just see us playing Frisbee at the lake in a few months?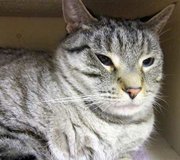 KLONDIKE
Seven year old. Neutered Male. Domestic Short Hair Gray Tiger.
Meow, meow, meow—would you look at my remarkable blue eyes? I may seem a little shy when you first meet me but with your patience you will see the most affectionate kitty ever. My previous owner was moving and my best friend, Summer, and I could not go with them. I am declawed in the front so inside living for me only. I have lived with other cats and children of all ages but I think if I had my choice I would prefer a nice quiet home.
(Continued on Next Page)
Prev Next
Vote on this Story by clicking on the Icon