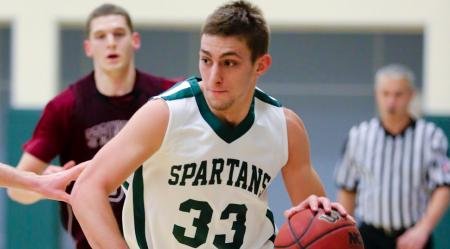 Castleton — The Castleton men's basketball team held an early lead but third-ranked Middlebury took control in the second half on its way to a 54-38 victory in Glenbrook Gym on Tuesday evening.
The Spartans took the air out of the ball and held the Panthers to 30 points less than their season average, but Middlebury still shot 47.9 percent from the field and outrebounded the Spartans 34-22. Castleton dropped to 7-7 with the loss while the Panthers improved to 14-0.
Mark Comstock led the team with 16 points on some tough shots while Logan White joined him in double figures with ten points on 3-for-6 shooting. White and Rob Coloutti each had a team-high four rebounds.
Castleton had no answer for Middlebury's Peter Lynch down low as he went 11-for-12 from the field for 23 points and a game-high seven rebounds. Nolan Thompson added seven points and five rebounds while Jake Wolfin dished off six assists.
The Panthers opened the game with a 6-2 lead over the first 2:25. However, Castleton climbed back in it with a 5-0 run by White giving the team a 9-8 lead with 13:48 left in the half. The Spartans extended their lead to 11-8 on a Comstock baseline jumper at 13:01.
Middlebury closed within one on a layup by Lynch and extended their lead to 14-11 over the next six minutes. A White jumper made it a one-point game once again, but Lynch scored five straight to push the Panther lead to 19-13 with 1:57 left.
White hit a three off a pass from Rob Coloutti, at 1:28, and after a Jack Roberts jumper Comstock made a jumper and with just three seconds left Jeremy Odena was fouled driving to the hoop. He missed the first shot but made the second to bring Castleton within two, 21-19. However, Nolan Thompson drilled a three as time expired to give Middlebury a 24-19 lead at the break.
The Panthers used an 8-2 run over the first four minutes of the second have to extend their lead to 32-21. Castleton was able to close the gap to eight at 13:14 on a layup by Comstock, but the team wouldn't get any closer. Middlebury slowly stretched its lead as high as 20 with 5:21 remaining on a Lynch layup and held on for the 16-point victory.
Castleton did hold Middlebury to just 4-for-16 shooting from beyond the arc and forced 11 turnovers compared to just 10 for the home squad.
Vote on this Story by clicking on the Icon