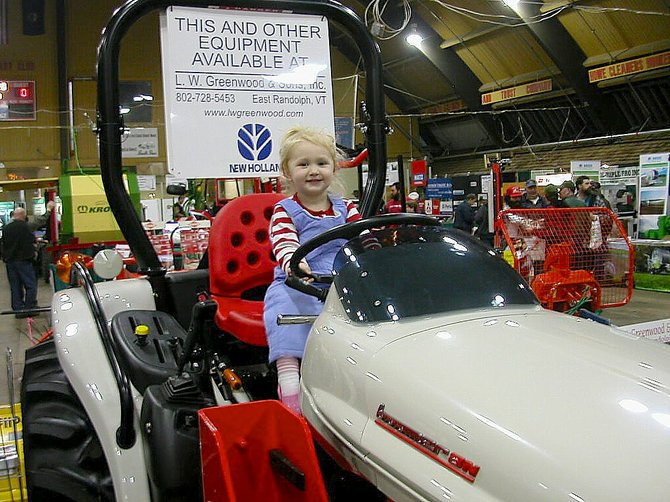 Essex Junction — The annual Vermont Farm Show returns to the Champlain Valley Expo grounds in Essex Junction Jan. 29-31. The free, statewide event—Vermont's largest agricultural showcase—attracts many consumers as well as agribusiness workers and experts from Addison and Rutland counties. The 2013 edition of the big show will celebrate its 81st year.
Being among one of the nation's most venerable statewide agriculture expos, the show will make its second showing at the Champlain Valley Expo.
Attendees may fondly remember the show at the Barre Civic Center. The event outgrew the old civic center, which some said was too dingy, and parking was always a problem.
According to Jackie Folsom of the Vermont Agency of Agriculture, "The new, more spacious venue provided a better experience for guests alike in 2012. For agriculture professionals, it's an opportunity to meet with vendors, preview products and machinery, attend trade association meetings, and network within the farm community."
The Vermont Farm Show has the right chemistry to attract all kinds of Vermonters, and out-of-staters; retailers, wholesalers and consumers—including the curious—can't resist the tractors, farm animals, and agricultural products on display.
"There really is something for everyone at the Farm Show," Folsom said.
Aside from a fair amount of technical activities geared for farmers and agribusiness suppliers, there are events for the rest of us.
This year, the show's popular Consumer Night will be held Wednesday, Jan. 30. Food shoppers will be able to enjoy the event's Buy Local Market with Vermont-sourced foods and products (even a few grain spirits, we are told).
Included in the Consumer Night activities this year is the Capital Cook-Off event. It's an Iron Chef-type thing that will showcase elected officials from the Vermont House of Representatives, Senate, versus appointees the Agency of Agriculture, Food and Markets in a battle of culinary skills. Sounds more like Bureaucratic Bake-Off to us—well, whatever floats your boat.
(Continued on Next Page)
Prev Next
Vote on this Story by clicking on the Icon