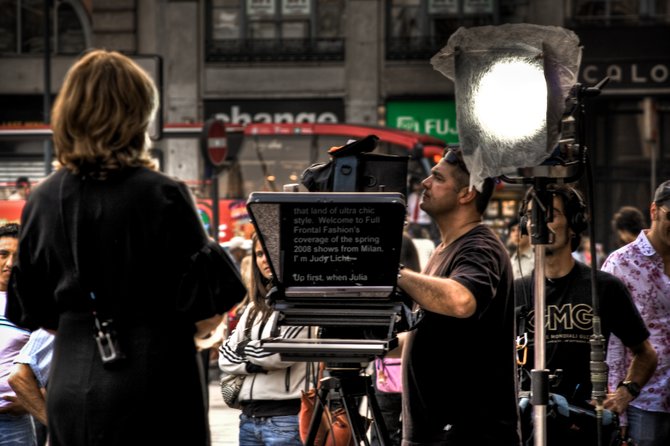 Orwell — The word teleprompter conjures up local T.V. news anchors emoting behind a studio desk, Lucy and Desi magically reading through their sitcom lines in front of cameras during the 1950s, and President Obama deftly orating well-spun political sentences during another inauguration address.
Today's teleprompter, which grew up alongside television at the start of the 1950s, is an "autocue" device that displays an electronic visual text of a speech, or dramatic script, much like a word-processing document looks on a computer screen. Using a teleprompter is essentially a modern, fancier replacement to off-stage cue cards of the gaslight theatrical era.
And the word teleprompter itself, at least as it's used in pop-culture today, is the generic version of a branded corporate name—much as "kleenex" became the generic term for a facial paper tissue, via Kleenex-brand facial tissue.
The TelePrompTer Corp., which was founded in 1950, produced the first autocues in the business. The device was used beyond the live T.V. stages of "Playhouse 90" and "Lux Video Theater". The spread of the technology occured rapidly.
President Obama wasn't the first president to use the teleprompter.
Former President Herbert Hoover was the first president to use the device, although he wasn't president at the time of its use. Hoover, even before Truman and Eisenhower, used the device to address the Republican National Convention in 1952.
It wasn't until 1964, the year President Lyndon B. Johnson used a teleprompter to deliver a national address, that a sitting president used the device.
Before LBJ, Kennedy, Eisenhower, and Truman had to glance down at their written words, scribbled or typed on paper or ruled index cards, when they addressed audiences.
One of the key figures in the building of the first telepromters was the late Richard Bolivar Ullom, a resident of Orwell.
While many Vermonters fondly remember Ullom as the owner, along with his wife Pat, of the Chipman Point Marina on Lake Champlain in Orwell, few knew about his association with the development of teleprompter technology.
(Continued on Next Page)
Prev Next
Vote on this Story by clicking on the Icon