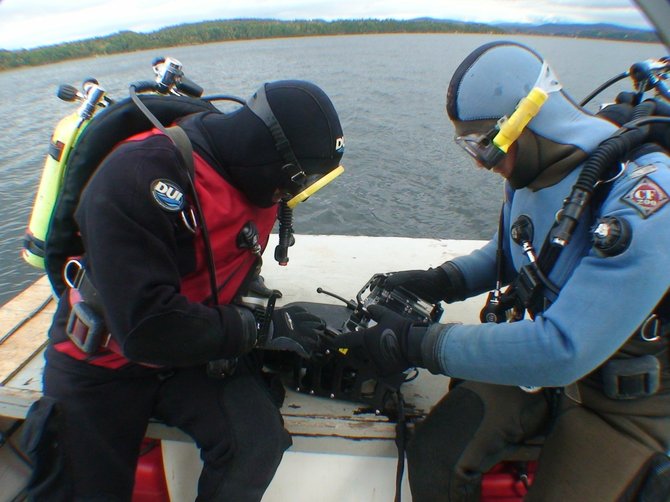 Ferrisburgh — The 21st century technology of side-scan sonar has come a long way from the 1950s. During the post World War II years, side-scan sonar was invented by researchers at Westinghouse and the U.S. Navy Mine Defense Laboratory in Panama City, Fla.
Now, the latest incarnation of side-scan sonar has been used in Lake Champlain to explore an historic, 19th-century canal-boat wreck off Charlotte. The new 3D sonar technology was employed by Vermont archeologists during a video-recorded expedition in the summer of 2012.
What makes 3D sonar so special in exploring underwater wrecks? First, some sonar basics—
Sonar is an acronym for SOund Navigation And Ranging. Leonardo DaVinci is credited with its invention in 1490.
Leonardo's primitive "sonar" device wasn't exactly sonar in its electronic incarnation, but in its purest essence, the Renaissance master's device was as close as the world got to the technology for several centuries.
During a summer evening, under a new moon, Leonardo partially submerged a hollow wooden tube in an Italian lake. He wanted to determine if his ear could detect the muffled, watery soundwaves of an out-of-sight "enemy" rowboat several hundred yards away.
Four hundred and twenty three years later, the primitive forerunner of modern sonar emerged following the Titanic disaster. And decades after that, true electronic sonar came into being.
Today, sonar's side-scanning ability involves electronic instrumentation.
As an electromagnetic or E.M. transmitter, a sonar device generates high-frequency sound waves which are emitted in cone- or fan-shaped pulses. The pulses slice perpendicular pathways through a medium such as water.
For maritime applications, side scanners are either towed behind or mounted onboard a vessel.
Officials of the Lake Champlain Maritime Museum's Maritime Research Institute announced last week that a Vermont public television program, which airs this month, will show a team of museum divers using high-tech, side-scan radar. The device was used to explore the wooden wreck of the Sloop Island, a nearly 100-foot-long canal boat built in 1873. The dive on the cold-water wreck was recorded last summer.
(Continued on Next Page)
Prev Next
Vote on this Story by clicking on the Icon