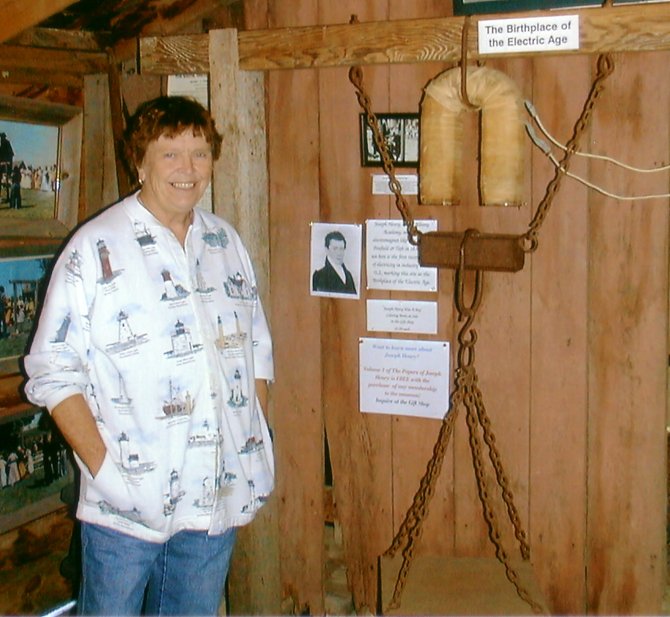 Brandon — Step aside Thomas Edison and Nikola Tesla. A Brandon blacksmith pioneered the use of electricity during the 1830s, four decades before inventors Edison and Tesla began experimenting with electricity for commercial and home applications.
Vermont-native inventor Thomas Davenport was born in 1802. He operated a blacksmith shop in the Forestdale section of Brandon near the intersection of Routes 73 and 53. There he invented the first D.C. (direct current) electrical motor in 1834. A year later, he built a scale-model of a futuristic electrical railway. It was the first electric train on any scale.
The Brandon blacksmith had learned about the use of an electromagnet, built by Joseph Henry and operated by Allen Penfield owner the Crown Point Ironworks, in nearby Ironville, N.Y. Penfield's underground and open pit mines and mill facilities were located up the hill from Crown Point, N.Y., along Putnam Creek, at the edge of Penfield Pond near the west shore of Lake Champlain.
"Penfield was the first to employ an electromagnet to 'charge' the iron quills in his iron-ore separating machine," said Joan Hundson, president of the Penfield Museum Board of Directors in Crown Point.
"The magnet made it possible to separate some of the nonmagnetic minerals from the ore before the ore was placed in the forge. That's why Ironville is considered the birthplace of the Age of Electricity."
Davenport had visited Penfield's 19th century iron operation on horseback on several occasions. Iron for the famous Brooklyn Bridge and Civil War ironclads, including the USS Monitor, was later mined and milled there. The Vermonter was fascinated by Penfield's expanding operation as well as by the motive power of magnets. In 1833, Davenport purchased Penfield's big magnet when it was replaced by a new device.
Carrying the magnet via horse-drawn wagon to the Crown Point docks on Lake Champlain, Davenport then ferried the device to Bridport in Vermont. From there, the wagon delivered the electromagnet, overland, to Davenport's Forestdale workshop.
(Continued on Next Page)
Prev Next
Vote on this Story by clicking on the Icon