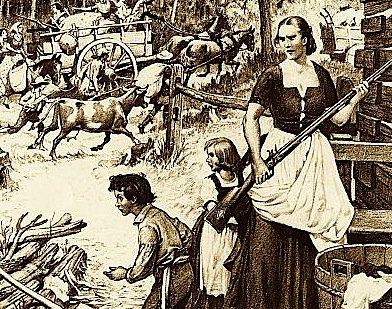 Salisbury — Ann Story was an 18th century heroine who cast a long shadow across Vermont's landscape.
Pioneer woman, wife, mother, horsebreaker, farmer, expert shooter, hunter, trapper, rebel spy and Indian fighter, Story was an all-American woman with the intelligence, courage, and stamina of a modern action hero.
As a pioneer, Ann was an early American who embodied the fighting spirit that built the United States.
From poor Connecticut stock, she endured the rugged wilderness of Vermont's frontier days with its variable northern climate, Abenaki raiding parties, and brutish British soliders accompanied by their Tory minions.
Born Hannah Ann Reynolds in 1735, in Preston, Conn., she grew up in spartan surroundings.
According to her most recent biographer Michael T. Hahn, author of "Ann Story: Vermont's Heroine of Independence", published by New England Press, recorded details of Ann's pioneer life are few and far between.
Ann married farmer Amos Story in 1755. In 1761, she gave birth to a son, Solomon. Two years later, Ephraim was born followed by three daughters in successive years.
During the 1700s, Vermont was contested frontier territory referred to as either the New Hampshire Grants or simply as part of northern New York Province. What you called this region depended upon your colony of origin as well as your factional loyalties.
Most of the locals and transplants to Vermont from lower New England disliked the New York settlers, or "Yorkers" as they derisively called them. Incredibly, this ancient tension survives into the modern era; it's seen in petty Red Sox-Yankees sports rivalry and the occasional "...now go home" anti-tourist auto bumper sticker.
In September 1774, the Storys left Connecticut to pioneer along the Otter Creek Valley near the Middlebury-Salisbury town line.
Leaving his wife and most of the children at Fort Ranger in Rutland, Amos took eldest son Solomon to trek north along the creek and stake out a homestead, within site of today's Shard Villa, on Shard Villa Road, in Salisbury.
(Continued on Next Page)
Prev Next
Vote on this Story by clicking on the Icon