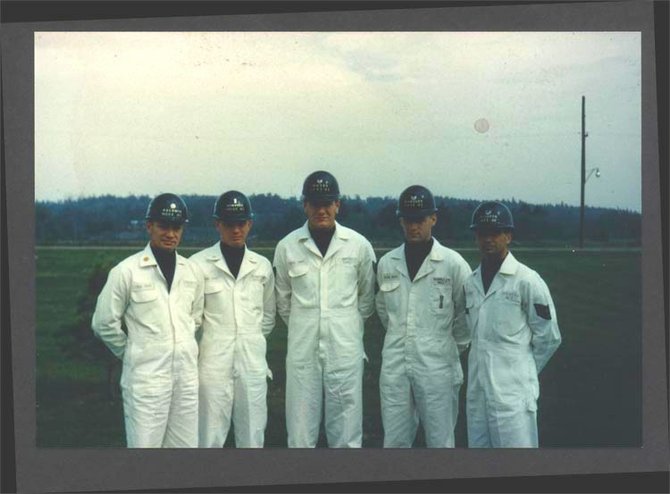 Middlebury — During the Cold War-era of the 1960s, Vermont had the dubious honor of hosting two of the U.S. Air Force's Atlas ICBM nuclear-attack missile sites. These concrete and steel silos were placed deep underground. Each silo site contained a nuclear-tipped Atlas rocket that, when targeted and launched, could wipe out a city the size of Moscow in a matter of moments.
With the establishment of the former U.S. Air Force Plattsburgh Air Base as a major bomber and nuclear-weapons center during the Cold War, the Department of Defense ruled that a perimeter of 12 hardened ICBM bases—straddling both Vermont and New York—must be constructed around the air base to protect it.
Starting in 1960 on through 1962, Plattsburgh AFB's 380th Strategic Air Wing went on high alert. In those days, the threat of atomic war cast a long shadow across the world.
The 82-foot-long, kerosene/liquid oxygen-fueled Atlas F ICBM was a near duplicate to NASA's civilian Atlas launcher which rocketed Mercury-7 astronauts into low Earth orbit between 1962 and 1963.
The Atlas F force was managed by the men and women of the 556th Strategic Missile Squadron under the 380th Strategic Air Wing.
The Atlas F missile, also classified as a rocket, was built by General Dynamics. It was secured in underground silo sites in both New York and Vermont as well as in the American midwest.
The Atlas F ICBMs remained ready to launch at a moment's notice. Their crews were always ready—within 10 minutes time of being alerted.
From start to finish, the missile squadron lasted from 1960 to 1965.
According to ICBM expert Cliff Lethbridge, the Atlas Fs deployed in Vermont were reliable and their nuclear warhead could pack a doomsday wallop.
"The TSM-65F Atlas, or Atlas-F, was 82 feet, six inches long," Lethbridge says. "It was approximately 10 feet in diameter and could fly more than 11,500 miles."
(Continued on Next Page)
Prev Next
Vote on this Story by clicking on the Icon