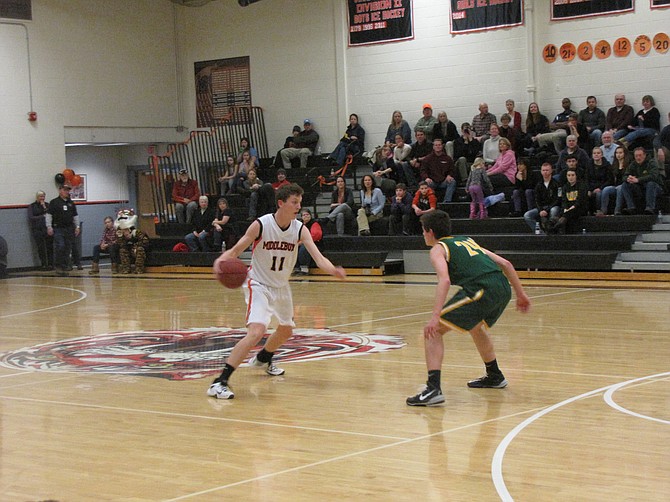 Middlebury — On MUHS Senior Night, the Middlebury Tigers were unable to rally, losing to BFA- St. Albans 55-45.
After the Middlebury seniors were introduced to a cheering crowd, the senior players came out firing. Senior Ryan Miller scored the first five points for Middlebury, and senior Jonathan Fitzcharles forced three steals and came down with multiple contested rebounds. The fast start for the seniors wasn't enough for the Tigers though, as the Bobcats' defense overwhelmed Middlebury ball-handlers, and let the Bobcats score off of easy looks at the basket. BFA- St. Albans led the Tigers 22-12 after the first quarter.
The Tigers flipped the script to start the second quarter, as they were the ones picking off bad Bobcat passes and scoring in transition. The amplified defense helped the Tigers race out to an 8-0 run to start the quarter. The Bobcats were held scoreless for half of the quarter, scoring their seven points in the final few minutes.
Trailing 29-25 at halftime, the Tigers came out in the third quarter with the same defensive intensity from the second quarter, as they forced turnovers on the first two Bobcat possessions. The Tigers took their first lead of the game, 32-31, but the Bobcats were able to retake the lead, 37-34, after the third quarter.
The full court pressure of BFA- St. Albans tripped up the Tigers to start the final quarter, as they turned the ball over on unforced errors multiple times. The Bobcats held on to their lead, and forced the Tigers to foul to get back into the game. Fouling didn't work, as the bobcats were able to quell the Tiger rally by hitting their free throws, ending the game ahead, 55-45.
Pierson Beatty's 14 points led Middlebury. Also in double figures for the tigers was Ryan Miller, with 11.
At presstime, the Tigers next play at Mt. Abe, on Feb. 3.
Vote on this Story by clicking on the Icon