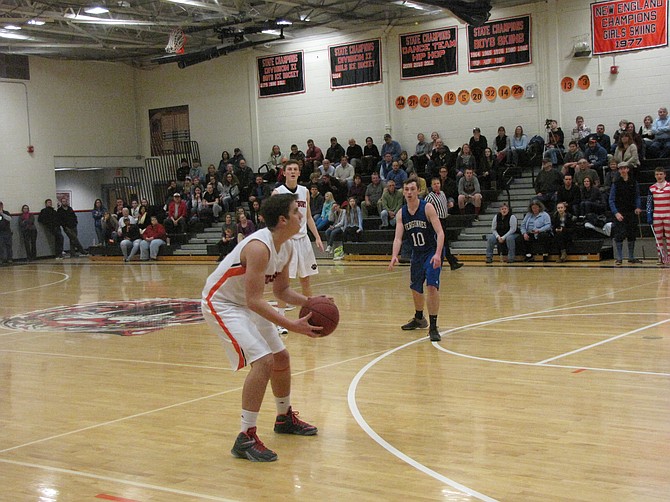 Middlebury — The Vergennes Union High School boys' basketball team never trailed against Middlebury, beating the Tigers, 55-50 last Tuesday night.
In a game between county rivals, the first quarter of action started out fast-paced. Vergennes quickly scored the first basket, and never fell behind during the game. The quick pace of the game lead to some sloppiness from the Tigers, as they had multiple turnovers due to lackadaisical passing. The Vergennes Commodores used crisp passes to find open big men underneath the hoop, to lead the Tigers 16-10 after the first quarter.
After an offensively slow first quarter for the Tigers, they found their rhythm in the second. The Tigers were able to claw back into the game with a varied attack, tying the score at 25 points. The Commodores squeaked out a slim two-point lead at halftime, 31-29.
The pace of the game slowed after halftime, with Middlebury unable to find much space offensively, and the Commodores coughing up the ball for Tiger steals multiple times. The teams combined for only 22 points in the third quarter, with Vergennes out scoring Middlebury by 2 points.
Leading 43-39 heading into the final quarter of play, the Vergennes Commodores started playing keep-away, nursing their slim lead. The rival teams upped the physical play as the referees missed obvious fouls, leading to multiple Tigers limping off of the court, and one Vergennes player leaving the game sporting a gruesome gash on his head, which led to a stoppage in play as officials had to mop the blood off of the court.
The Vergennes game plan of keep-away worked, as the Tigers were forced to gamble on steals and fouled Commodore ball-handlers. The final three minutes of the game dragged on for eternity, as the referees found their whistles.
Despite only hitting on field goal in the quarter, Vergennes still outscored Middlebury 12-11, with 10 Commodore points coming from free throws.

Vergennes ended the game victorious, defeating Middlebury 55-50.
Vergennes junior Adam Gill led all scorers with 23 points. Tiger seniors Jonathan Fitzcharles (11 points) and Jack Honchell (10 points) both scored in double figures for Middlebury in the losing effort.
The rival schools meet again, Feb. 12, at Vergennes.
Vote on this Story by clicking on the Icon