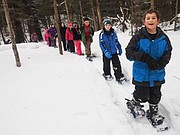 Starksboro — The non-profit Common Ground Center (CGC) is offering a wilderness based winter vacation camp on its 700-acre site in Starksboro during school vacation weeks for both Addison and Chittenden counties.
The two-day program is open to students in 3rd to 6th grades and will include activities such as snowshoeing, animal tracking, snow shelter building, sledding, nature crafts and of course hot cocoa.
Participants will learn to identify signs of wildlife such as porcupine, bobcat and deer under the supervision of experienced outdoor education professionals. CGC is uniquely positioned to offer such a program with a comfortable solar-heated lodge just a short walk away from trailheads leading to hundreds of acres of trails and animal habitat.
"Kids love exploring and playing in our forests and fields, and we have a lot of fun revealing all the magic that nature has to offer," says Emily Gibbs, CGC Program Coordinator;"If your child loves to play in the snow this is the camp for them!"
Common Ground Center was founded in 1994 as an inter generational summer family camp program focused on nature, arts, music, wellness community and fun. The Center has since expanded to offer year-round school field trips programs and facility rentals.
This the first year that Common Ground Center is making its unique offerings available directly to Addison and Chittenden county youth. In an effort to make registration as hassle-free as possible, families can register for the program through Common Ground Center or via the Bristol, Hinesburg, Shelburne, Williston, Charlotte and South Burlington recreation departments.
"Parents have to solve practical childcare questions during school breaks and we thought we could lend a hand while offering something really different and exciting" says Connor Timmons, CGC Executive Director, "So many kids spend a lot of their vacation week indoors or in front of a screen; we're hoping to change that."
DETAILS:
Grades 3rd-6th
8:30 a.m.-4:30 p.m.
$90 per person
Morning and afternoon snacks are provided, participants must bring their own lunch, sled and winter clothing.
Addison County Vacation Days – Feb. 16-17 (registration deadline: Tuesday, February 9)
Chittenden County Vacation Days– Feb. 23-24 (registration deadline: Tuesday, February 16)
To register, contact the Common Ground Center office at 802-453-2592.
Registration is also available through the following local Recreation Departments: Bristol, Hinesburg, Williston, Charlotte, Shelburne, South Burlington.
Vote on this Story by clicking on the Icon