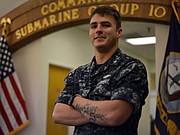 A local Vermont native is serving in the U.S. Navy as part of a crew working aboard one of the world's most advanced ballistic missile submarines, USS Wyoming (SSBN 742).
Petty Officer 2nd Class Michael Goslin is a machinist's mate (weapons) serving aboard the Kings Bay-based boat, one of 14 Ohio-class ballistic missile submarines.
A Navy machinist's mate (weapons) is responsible for maintaining all tactical weapons systems and defensive armaments aboard the boat.
"I like interacting with different people and cultures," said Goslin. "Also having a steady income is the best part about the job."
Measuring 560 feet long, 42 feet wide and weighing more than 16,500 tons, a nuclear-powered propulsion system helps push the ship through the water at more than 20 knots.
The Navy's ballistic missile submarines, often referred to as "boomers," serve as an undetectable launch platform for intercontinental ballistic missiles. They are designed specifically for stealth, extended patrols and the precise delivery of missiles if directed by the President. The Ohio-class design allows the submarines to operate for 15 or more years between major overhauls. On average, the submarines spend 77 days at sea followed by 35 days in-port for maintenance.
"We demand the highest standards from our Sailors - both professionally and personally," said Rear Admiral Randy Crites, Commander, Submarine Group Ten in Kings Bay, Ga. "Petty Officer Goslin's chain of command, family and our great nation take immense pride in his devotion and service to his country. The importance of our Sailors is immeasurable; people like Michael Goslin are absolutely crucial to ensuring our Ships and Submarines are operating at their best - always mission ready, providing our Nation with the greatest Navy the world has ever known. I'm so very proud he is on our team."
Goslin is part of the boat's gold crew, one of the two rotating crews, which allow the ship to be deployed on missions more often without taxing one crew too much. A typical crew on this submarine is approximately 150 officers and enlisted Sailors.
(Continued on Next Page)
Prev Next
Vote on this Story by clicking on the Icon